The Journalist Look: Carrie Bradshaw Shows you How it's Done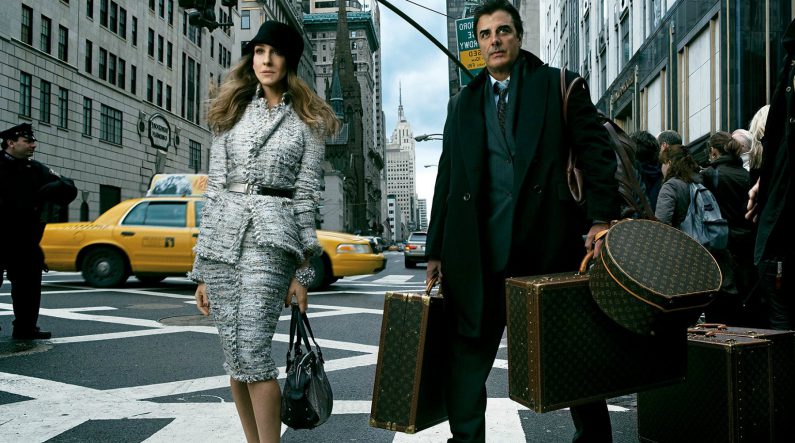 Work style was once boring and indifferent … and then we met Carrie Bradshaw, a woman who convinced us that even the most boring jobs need style, elegance and exquisite looks.
Carrie, the woman we met from Sex & the City, was Editor and she had a column in a high profile newspaper. She was a columnist for Vogue and author of her own books.
In the photos below you will see, the journalistic style of Carrie, a style that many women could be adopt even today. Besides, Patricia Field, Costume Designer of the tv-show, was well ahead of that time in styling and fashion.
Pleated skirt: This is one of the strongest trends nowdays and Carrie had begun wearing it since the first season of Sex & the City, in 1998. Today, in 2016, the pleated skirt is a must and we should put it in our everyday lives.
Vest: Do you want a great proposal for wonderful work style? Combine different shades (such as grey with mustard) and choose pieces that tone your waist even if you weight more than Carrie. Carrie's narrow vest looks fantastic with pleated skirt.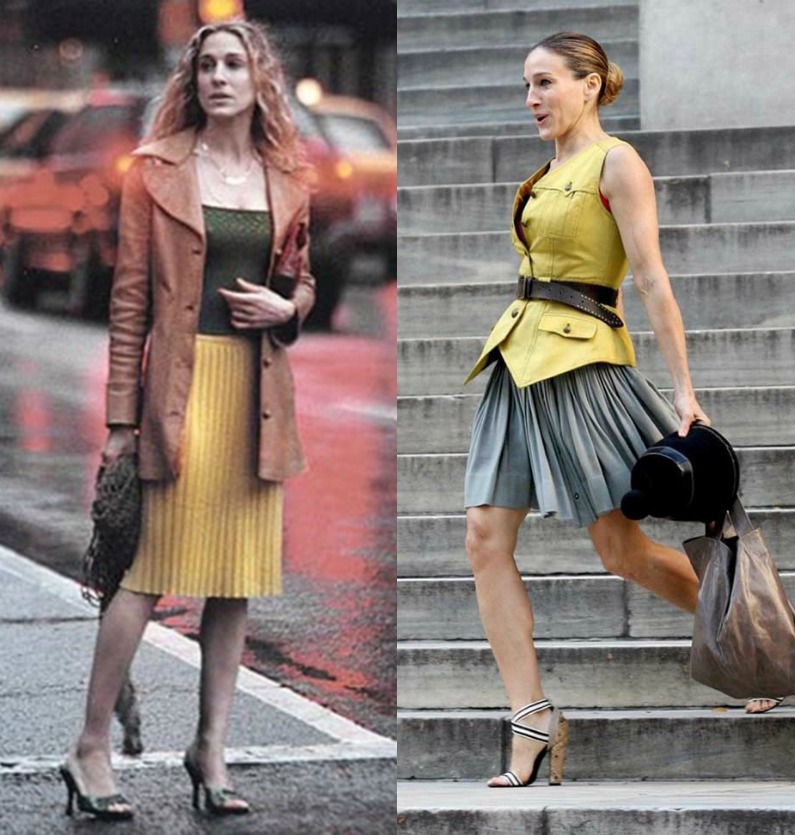 Blazer: Even if you can't imagine it, Carrie managed to predict athleisure style too. In these two appearances she chose to wear black leggings with burgundy blazer and short suit with blazer, sexy sandals and messenger bag.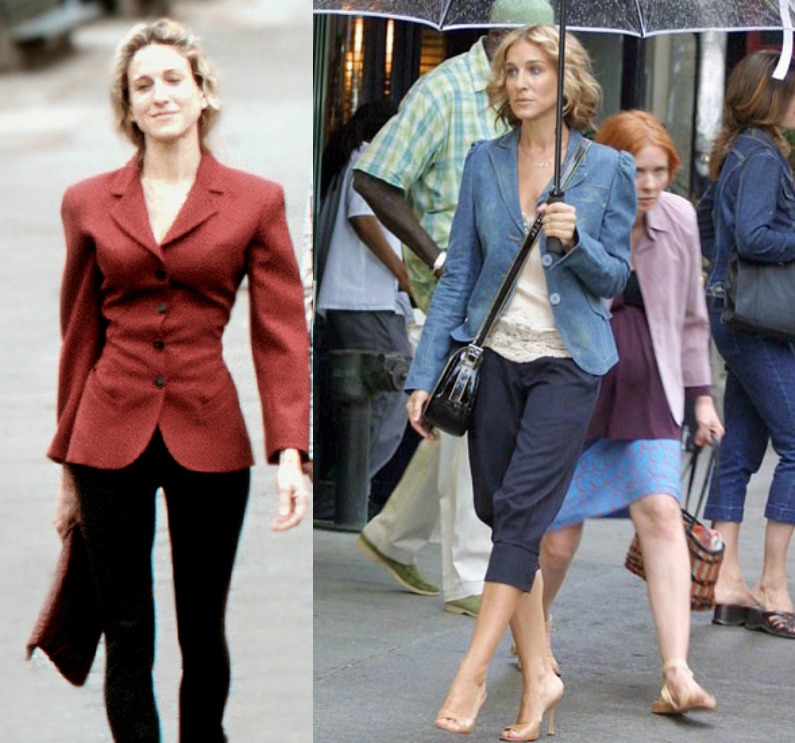 Fur: This year fur is considered as the most powerful trend and if you wonder how to wear it, Carrie shows you the way. Buy a coat that has fur details and wear it to your work with sweaters, tight jeans and over-the-knee boots.
Color and stripes: This year, fashion houses, like Alexis Mabille, Acne, Balmain, Max Mara, Etro, Tommy Hilfiger, Giambattista Valli, and many more dedicated large parts of their shows in stripes. Carrie had predicted this trend years ago showing us a more joyful, optimistic and colorful version.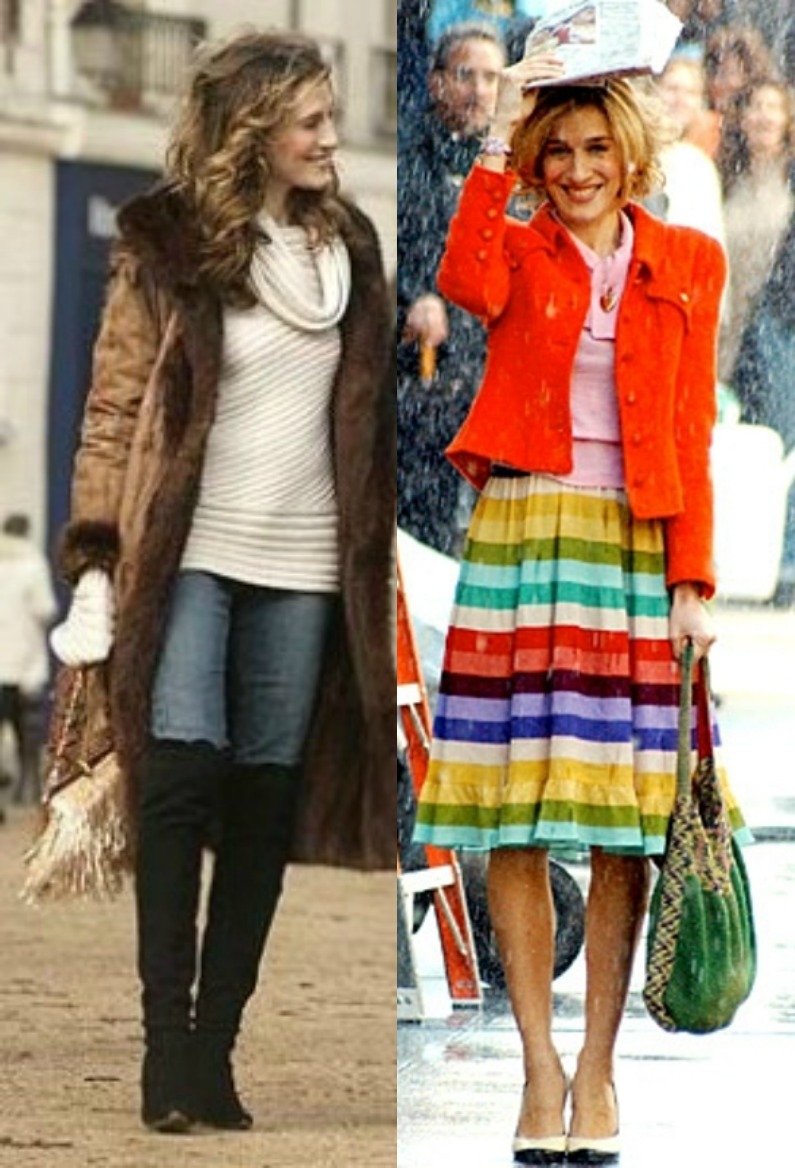 Suit: Suits are back in the city and Carrie shows us one of the most elegant version of them. Carrie's striped suit was combined with striped top on a different hue and these layering stripes are fantastic! Of course the pointed white pumps are also a huge and powerful trend.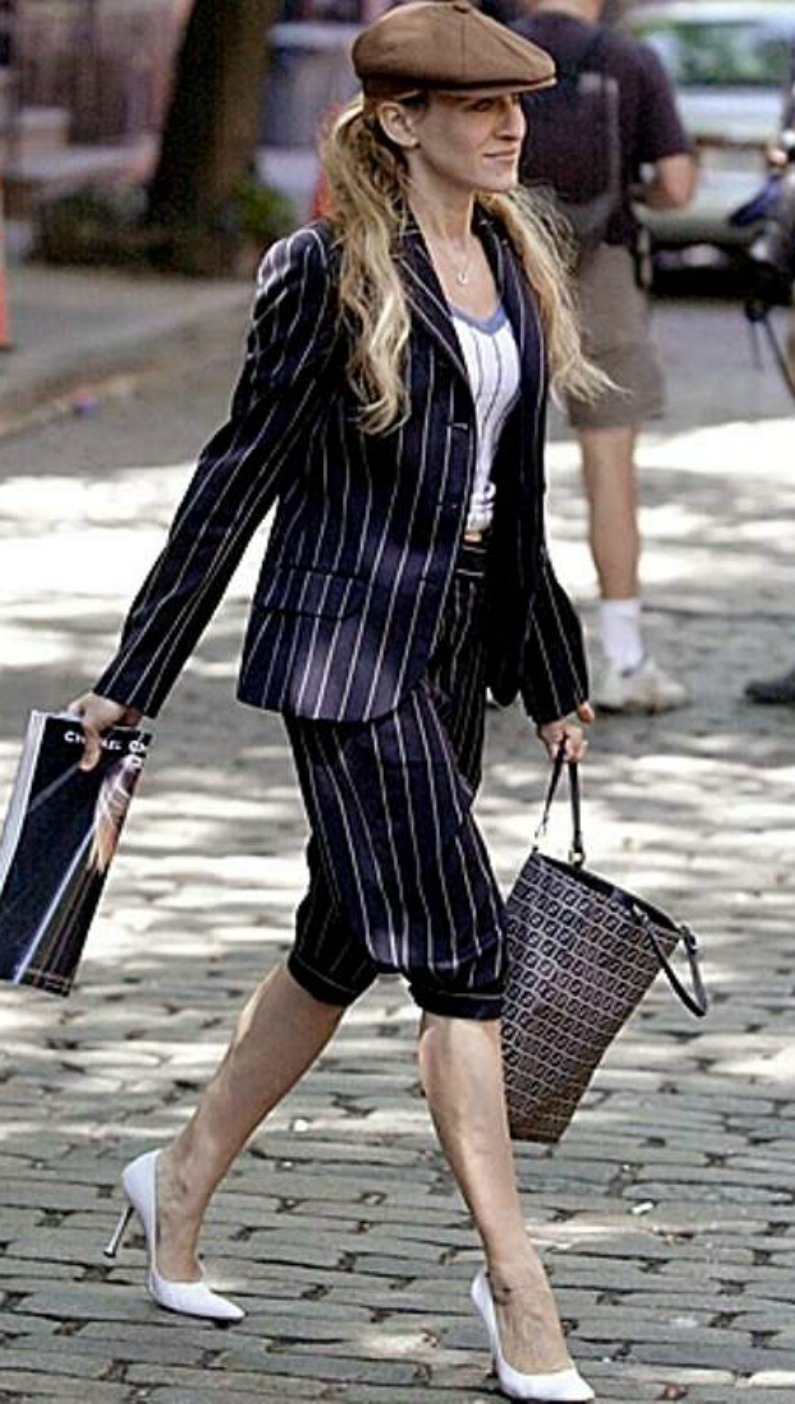 Carrie had made a similar look few years later when she had gone to the head quarters of Vogue to launch a new partnership. So what would you wear  for an interview in Vogue? If you were dressed like Carrie (even today, many years after the end of this show) you would have been at this moment Vogue's favourite editor.
The striped trend appeared again and again in our favourite show. In that look Carrie combines two different prints, floral and stripes, and the result is amazing. Her off-the-shoulder top (which is the ultimate trend of 2017) convinces us to finally try to combine ours similar top with a cigarette classic pair of trousers.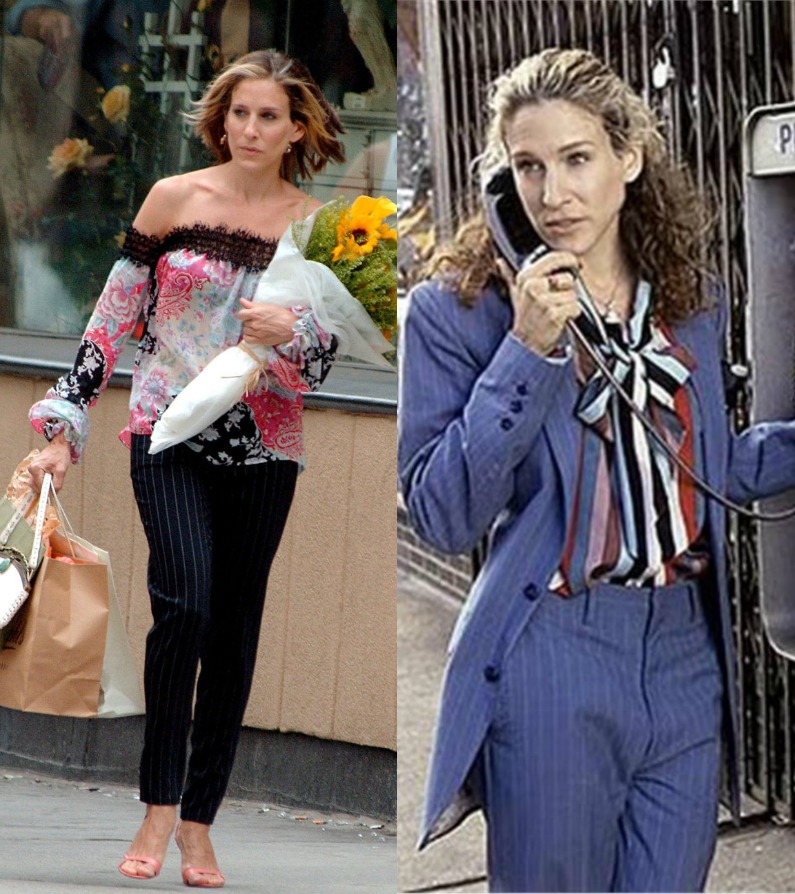 Girly: The journalistic style is not always strict, and this is something that Carrie knows well. At a meeting with the editors of her first book, she wore a floral dress, white blazer and platforms. As for the work glam look Carrie (in picture No. 2 wears a bodice top with pearls (pearls on clothes and accessories are a huge trend this year), skirt and over-the-knee boots.
Pink: 2017 is the year of pink! The pink color was seen in all kinds of accessories. Carrie combines pink coat with an office midi skirt, black shirt and tiara in her hair! We love her confidence and for this look and all the other ones, she is The Queen of Working Style.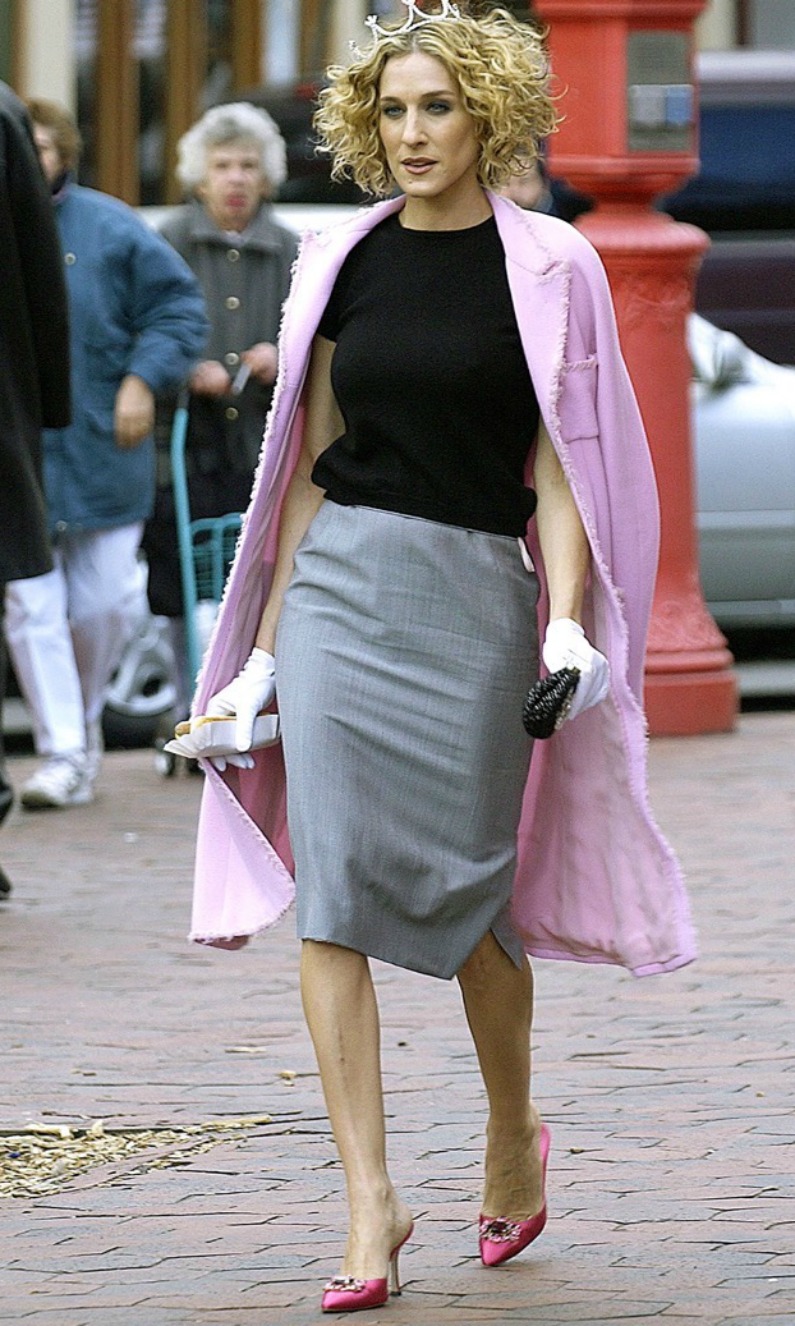 Over the ankle: Fashion wants (this year) to wear the pants just above the ankle and Carrie adopted this trend when no other American did.
Accessories: There were many times that Carrie wore hats in everyday life. In this look the well known editor turns all eyes on her wearing fur coat, over-the-knee boots and stylish black hat.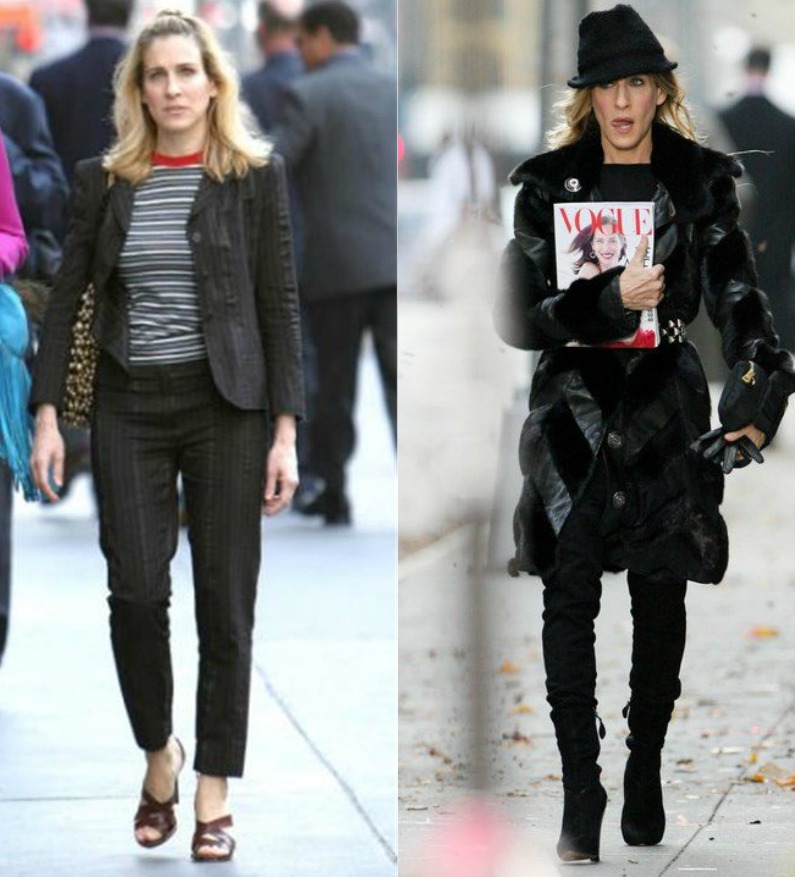 Androgynous look: This year the ultimate work style wants women to wear androgynous looks but with a more feminine touch. Carrie adopted this trend many years ago. She combined white suit with pink striped shirt and sexy peep toes. The result is simply dazzling.