Rihanna: Our Male Editor Rates Her Street Style!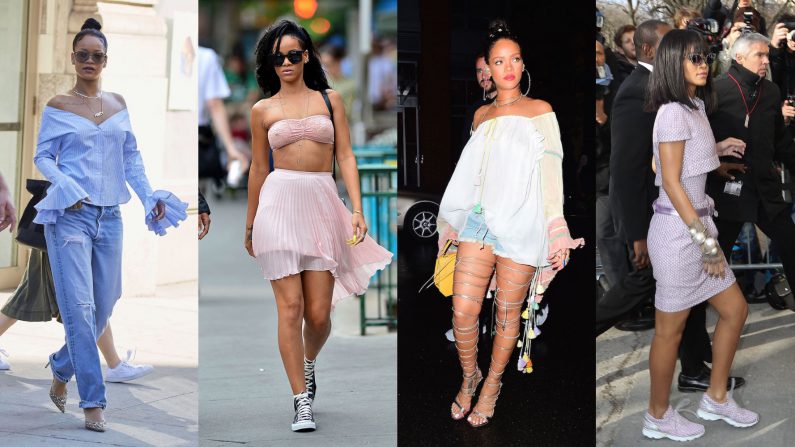 In the past articles of our series, I've been rating the outfits of more fashion-oriented celebrities like Bella Hadid and Kendal Jenner. This time it's a little different and I thought I should find someone from the art world to see how they compare to their fashion counterparts and voila, Rihanna!
Rihanna Outfit #1

Ok, it seems that she is really casually dressed – which isn't a bad thing by any means – but let's pick her outfit apart! She is wearing a grayish colored short dress which is slightly shiny, good job nothing negative to say. She has wrapped a bright burgundy jacked around her waist.
Now, I may not be able to see exactly how that jacket looks like or how it would look like properly worn but I really like it. I really think that burgundy is a unique color and works great with more down to earth colors like this gray. Then we have the shoes. Ok, I have to admit I don't really like the laces this way. I mean, it doesn't look stylish, it simply looks bad! Hair and accessories – really good!
Grade: 7/10 the shoes got you Rihanna!
Rihanna Outfit #2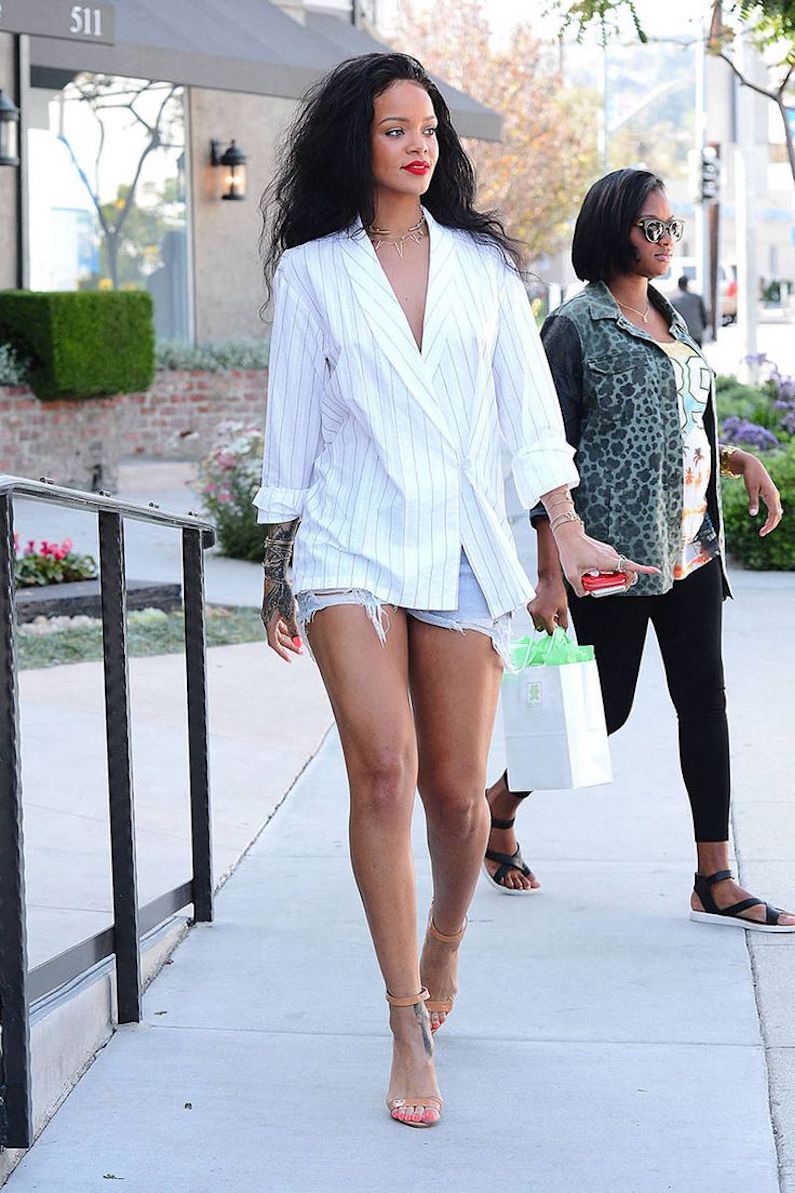 This looks amazing, I'm stunned! She is top to bottom perfect. Oversized tops/jackets/etc. with short and tight bottoms really drive us mad! She looks casual but elegant at the same time, sexy and proper, hot and classy! The accessories add a nice more wild touch and the shoes are the perfect choice for the outfit.
Grade 10/10 tough to beat!
Rihanna Outfit #3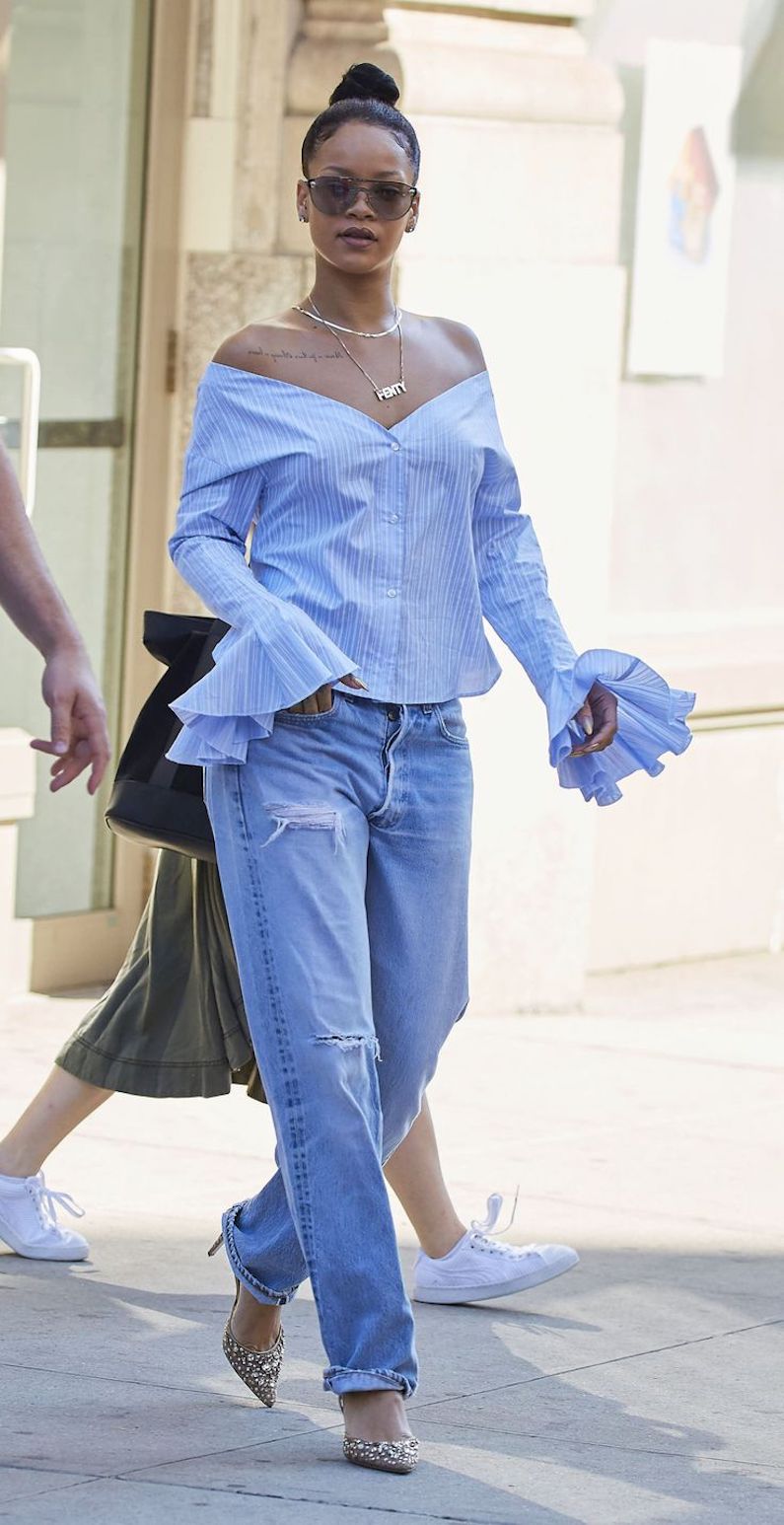 Ok, I have mixed feelings, I am torn. I like half of what she's wearing and the other half, I don't! Let's start from bottom to top this time. I really like the shoes (didn't expect to as I'm not a usually a fan of faux jewelry on clothes) but they look really great and they work with the rest of the outfit.
The jeans are a big no-no. They don't accentuate her figure and that's a shame. I like the shirt, it's summery, sexy and refreshing and finally don't like the hair and look. She looks too strict and uncomfortable. If you check her previous two appearances, her hair like that looks much better.
Grade: 7/10 Hair and pants Rihanna, pay attention!
Rihanna Outfit #4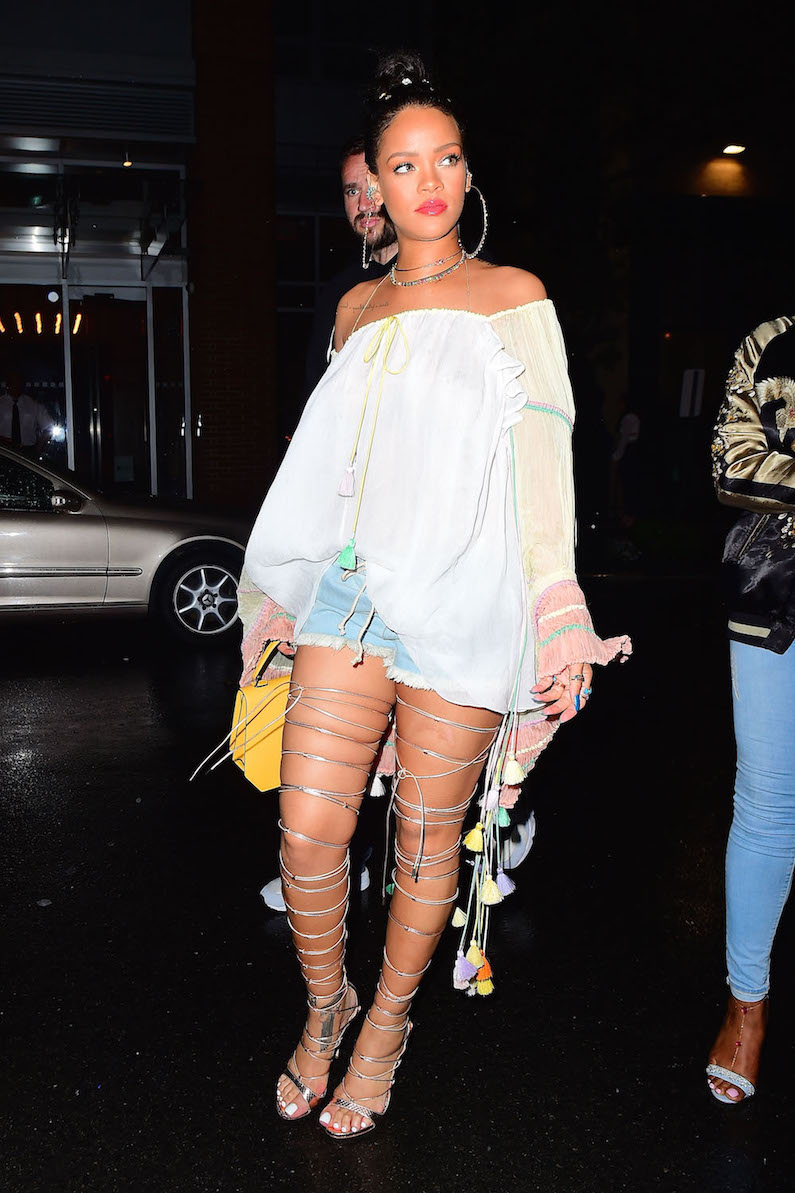 Oh man, I can tell you right away that if she had opted for a different pair of shoes, this outfit would get a perfect score! What's my beef with the shoes? Well I don't like the cables thing that runs all the way up her legs. It looks weird, it's not sexy (while strips and straps do look sexy!!) and the shininess doesn't help. Apart from that I really like everything else, from the jean shorts and the brightly-colored shirt to her hair and accessories.
Grade 8/10
Rihanna Outfit #5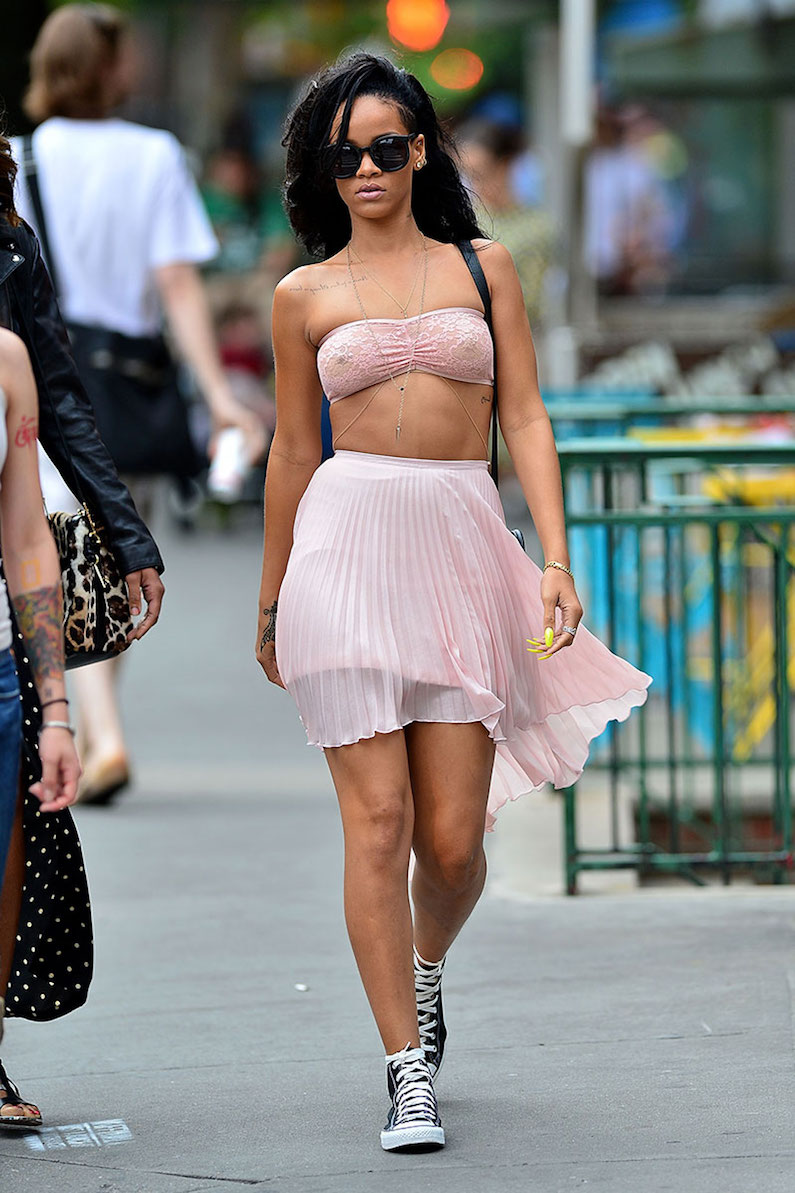 What? This doesn't even make sense. It's like she woke up grabbed the first couple of things she could from her wardrobe, without looking, put it on and went outside. Apparently she is wearing a bra, a tutu skirt and a pair of black Converse shoes! Oh, and she has bright yellow long fingernails that give me the creeps :/
Grade 4/10 Rihanna, go home and change right this instant!
Rihanna Outfit #6
Now, that's a great Athleisure outfit!her dress combines class, elegance and the casualness from a more athletic style. Really love the color too, it's unusual looks great on her. She went the extra mile and chose a matching pair of shoes that take her outfit to a new level! Hair style and glasses are perfect! They have something from the 60s and reminisce a Jackie-O look!
Grade 11/10 Yes, I did it again! It's the perfect outfit, kudos Rihanna!