Sara Sampaio – Our Male Fashion Editor Rates Victoria's Secret Angel Outfits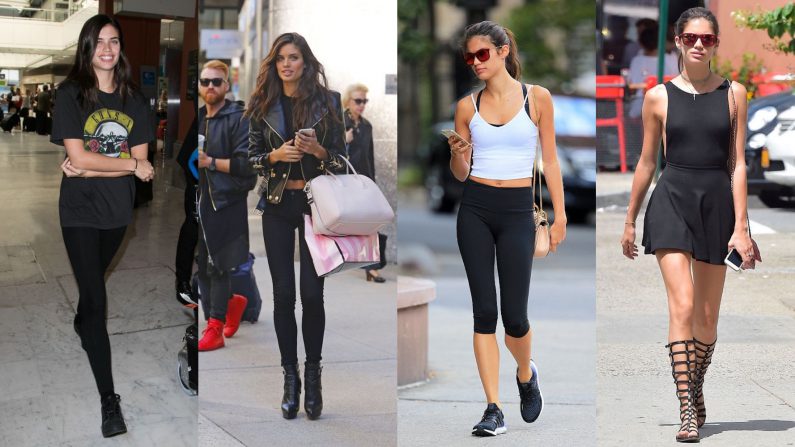 After Kendall, Bella, and Kim, I decided I should find a new candidate, slightly different this time so thought it was high time I chose my favorite Victoria's Secret Angel: Sara Sampaio!
I'll have to get this out of the way first – I think she is perfect but I promise I won't be biased, if anything I'll be more strict and unforgiving since she is my favorite! Let's get on with, shall we?
Sara Sampaio Outfit #1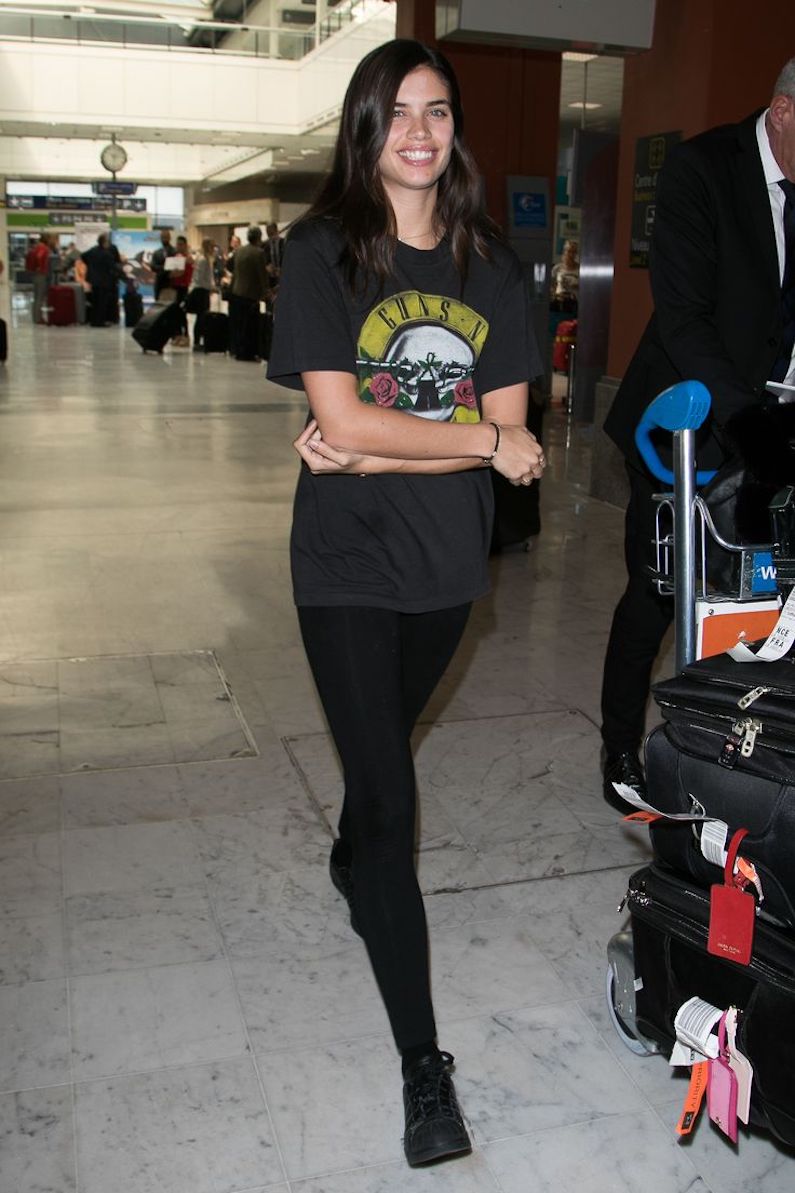 Quite the casual, athleisure outfit that works perfectly. It's an all-black look from top to bottom. Can't really make out what the shoes are but they look like all-black Stan Smith. The leggings are your classic black pair of yoga pants and then she is sporting a Guns n Roses t-shirt which adds a 'Rock' note making the who look more wild.
I have to also give her a point for not wearing any makeup and still looking beautiful! Don't they say that a smile is the best makeup? Well, Sara sure proves this right.
Grade: 8,5/10 Only thing I would change would be the shoes – too typical
Sara Sampaio Outfit #2
Now she took the 'Rock Chick' look on a whole other level! I guess she has a thing for total-black outfits but she looks truly amazing! I always loved those types of leather jackets: short biker jackets with straps on the sleeves are ultra sexy!
Then, we have a simple black top and a skinny fit pair of black pants. To top it all off she is wearing a pair of black ankle boots that continue the 'strap' style and top off the sexiness!
Grade: 11/10 Yes! Wouldn't change a thing!
Sara Sampaio Outfit #3
Another super casual yet super stylish and sexy appearance. She is rocking a plain black sleeveless t-shirt that's perfect for the summer months and the gym, a pair of blue jeans and a white pair of Converse All-Star which I personally think it's the best color! She also has a 'Lara Croft' style going on with her hair like that which is always a great way to complete a more casual and adventurous look!
Grade: 7,5/10
Sara Sampaio Outfit #4
Alright, now things start getting a little south. Nah, don't worry I am just nitpicking. Let's start from top to bottom. I am not the hugest fan of this hair style judging by the rest of the outfit. I think leaving her down would look amazing. I do love the sunglasses though and the red tint! The dress is fine, looks great (black again, ok Sara what's the deal?) but the boots mess everything up. What is she supposed to be? Maybe she's going for the warrior princess look which doesn't work, especially with that dress.
Grade: 6/10 Not happy Sarah 🙁
Sara Sampaio Outfit #5
This is the ultimate gym look! Nothing fancy, nothing special, yet very stylish, chic and practical! She has managed to combine the practicality and sexy in one outfit. The hairstyle looks great here since she is going (or coming from) the gym, she needs to get her hair out of the way for her workout.
My only suggestion would be to choose a flashier pair of shoes. They look a little too manly. The handbag adds a touch of elegance and elevates the Athleisure look to a new level. Always remember, a more posh set of accessories can 'upgrade' an otherwise casual look and give you more options when going out. She is also wearing the same sunglasses like last time which is positive!
Grade: 8/10 – get rid of the shoes!
Sara Sampaio Outfit #6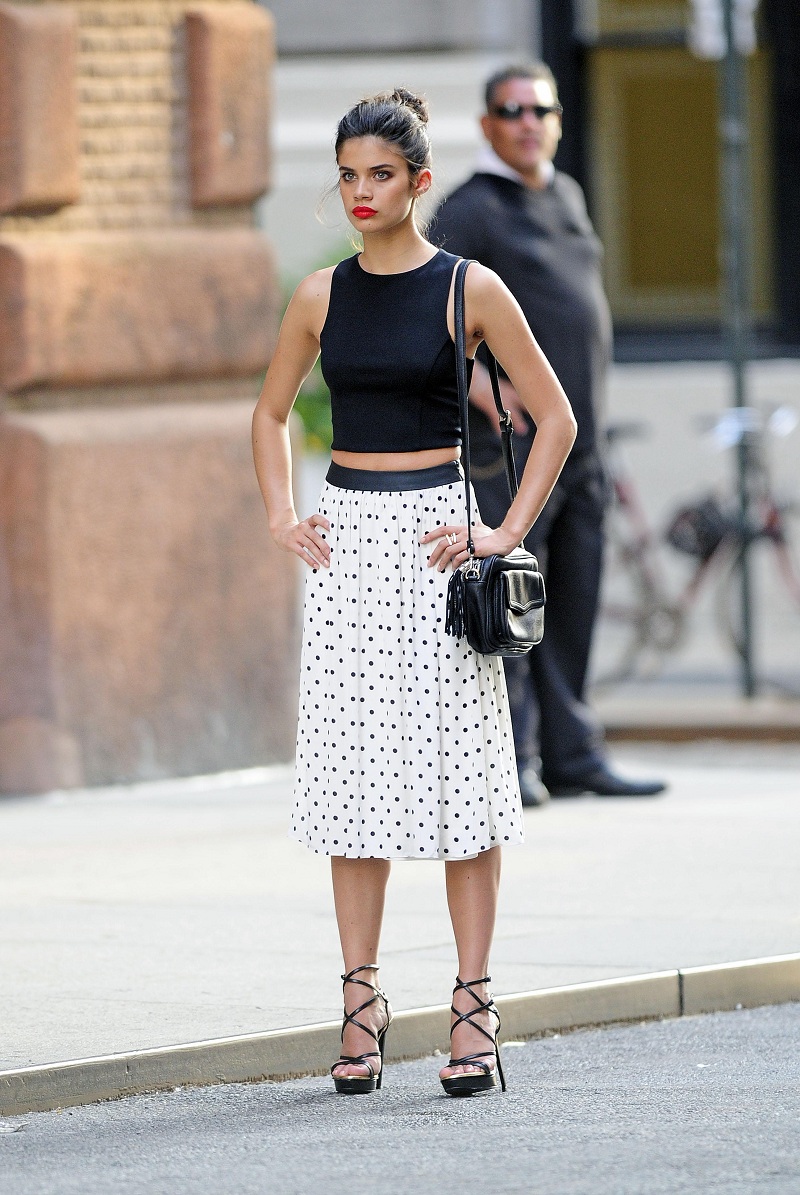 Ultra chic, ultra elegant. Don't know if it's for a photoshoot or she is going somewhere like that but I love the outfit. The skirt has an aura out of the 50s or 60s with that dotted pattern, the shoes are extremely sexy and the top just works and doesn't take it away from the bottom half. She looks a little scary tough, determined to go and do something (hopefully not something bad!).
Grade: 7,5/10 chill Sara, it's all good!