Olivia Culpo: Our Male Fashion Editor Rates Her Outfits!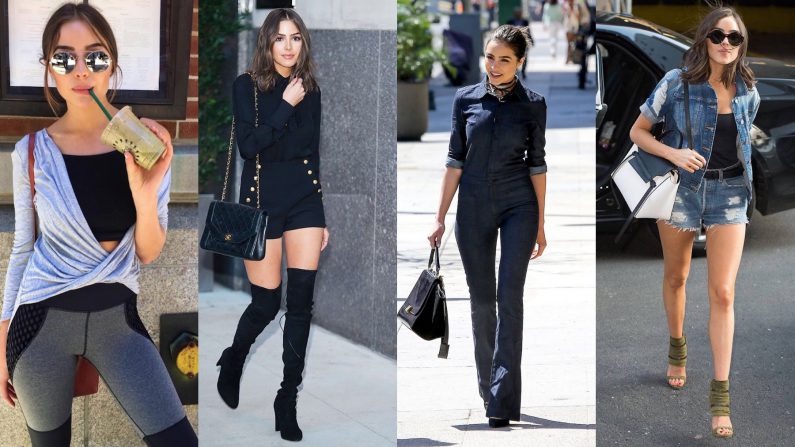 Olivia Culpo is well known for her athletic figure and active lifestyle, but let's see if the rumors are true and her outfits are up to Pinkfo's Athleisure standards!
Olivia Culpo Outfit #1
True to our Athleisure roots, we always try to start with an athletic outfit. So, ms. Olivia is wearing a weird looking light grey blouse which, I have to admit, it took me a while to figure out. At first, I thought it was a normal oversized t-shirt which she twisted and "created" a new look but eventually, I figured out (yay me) that she bought it like this. I really like the offbeat look and unorthodox style. She could have gone with a simple hoodie or a jacket but this adds extra style points and it also looks comfortable and great for the gym.
Underneath, she is wearing a simple black top – a fitting apparel for the gym and a grey & black pair of leggings which I am not really fond of because of the black lining. She is also sporting a bag which I can't really see, except for the fact that it's brown and worn as a backpack. I like her sunglasses, they are great for her face shape and of course, as a true gym-goer she is drinking some kind of smoothie and from the looks of it – being green and all – it probably has some kale or spinach like a gym aficionado's diet dictates!
Grade: 8,5/10 Great athleisure outfit!
Olivia Culpo Outfit #2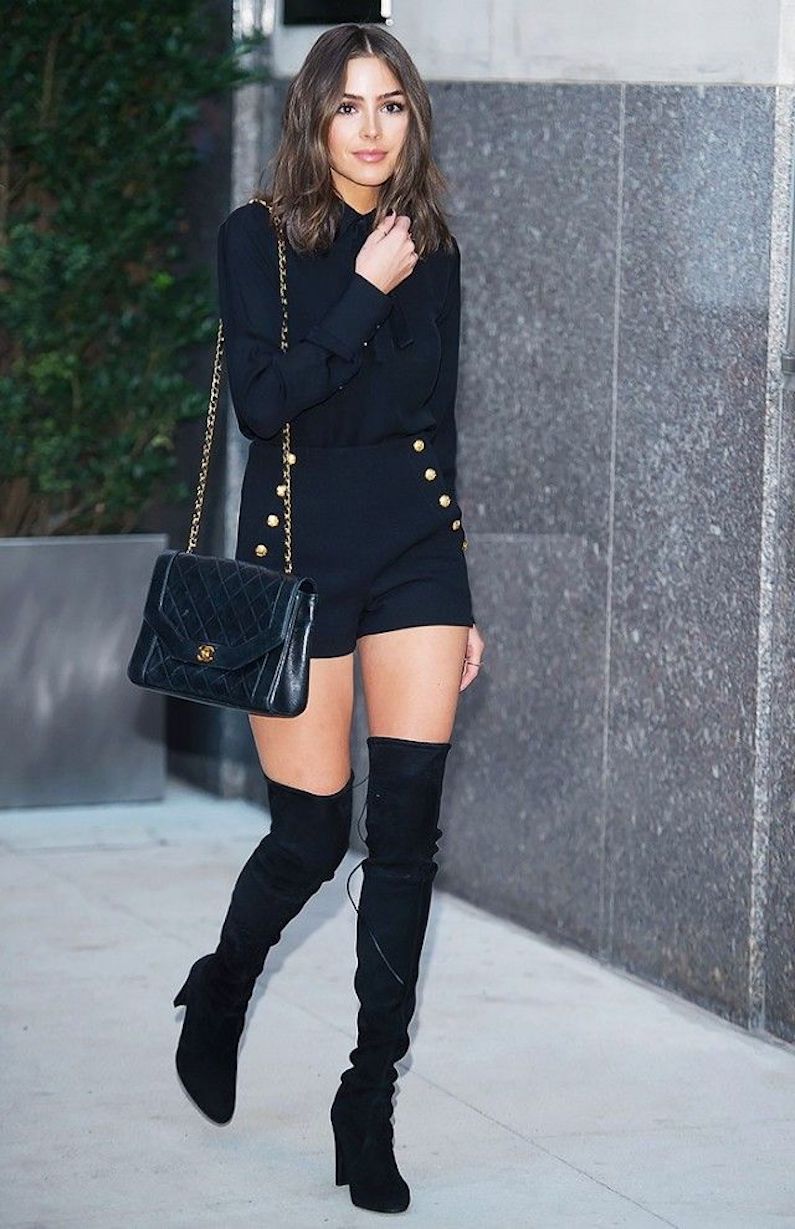 I have to say, when I see total black outfits, I feel that they are playing it safe because you can't really go wrong with black! But, in this case Olivia has created a very nice outfit. let's start from bottom to top!
She is wearing a classy and sexy pair of over-knee boots. They look like suede and I love the fact that they don't have a huuuge heel which make them look even more elegant and smart. Then, she is wearing a pair of high waist shorts with gold buttons that add a note of color and elevate her outfit to the next level. Finally, she is wearing a black shirt, which is nothing special, but it's a fine way to complete the look. Her bag, again, is nothing special but what else could she have worn? Keep it classy, smart, and black!
This is a perfect look both as a more formal appearance at the office or for a classy night out! Everyone, take style lessons from Olivia!
Grade: 9/10 She knows her office style too!
Olivia Culpo Outfit #3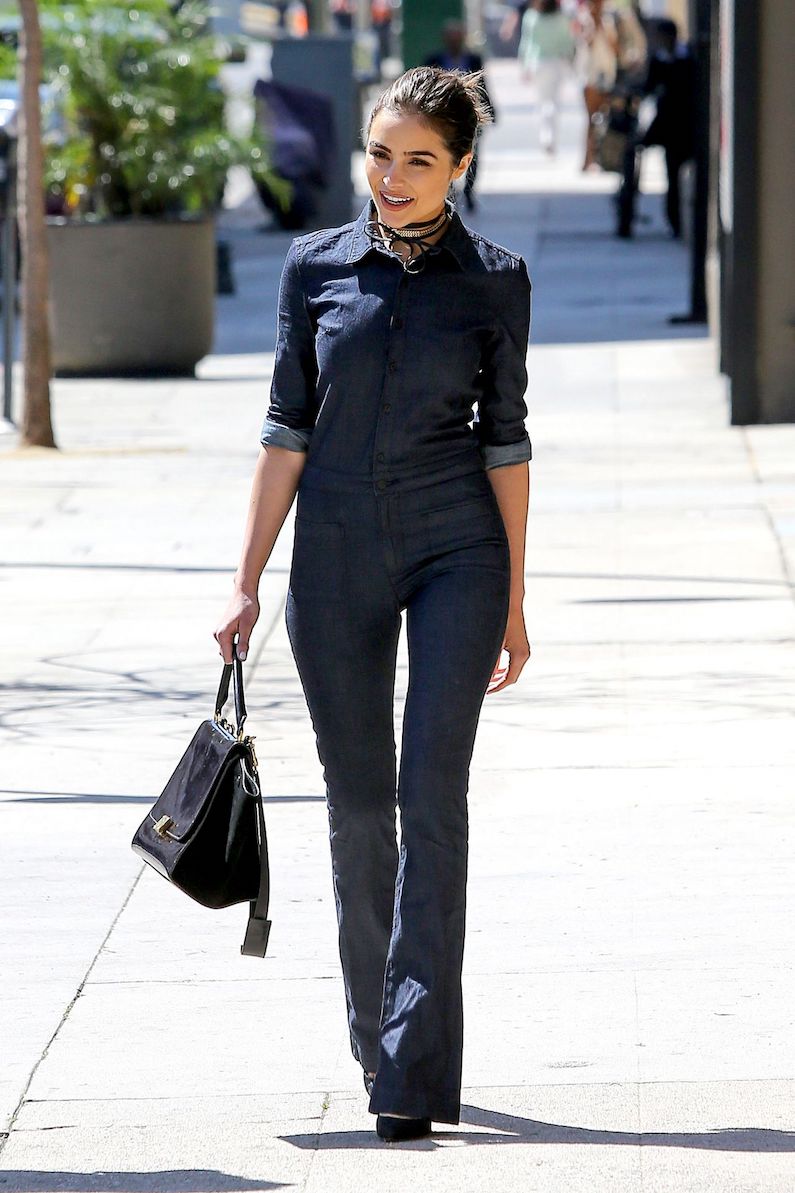 Here we have another office outfit, a little bit more strict than the previous one. She is wearing a full body denim jumpsuit in a deep navy color. Jumpsuits are all about the fit and she definitely has the body to make the jumpsuit look perfect! As jumpsuits cover the full body, it's really difficult to find the one that is not too tight or too loose and that hugs the body and accentuates your figure and Olivia achieves this very thing here! Finally, she is wearing a pair of black high heels which aren't that visible and tops off her look with a black handbag and a set of chokers that add a more casual note to the whole ensemble.
I have to say though that I don't really like the way the jumpsuit "opens" at the feet. I think that a tighter fit would look amazing and would flatter her body much more!
Grade: 7/10
Olivia Culpo Outfit #4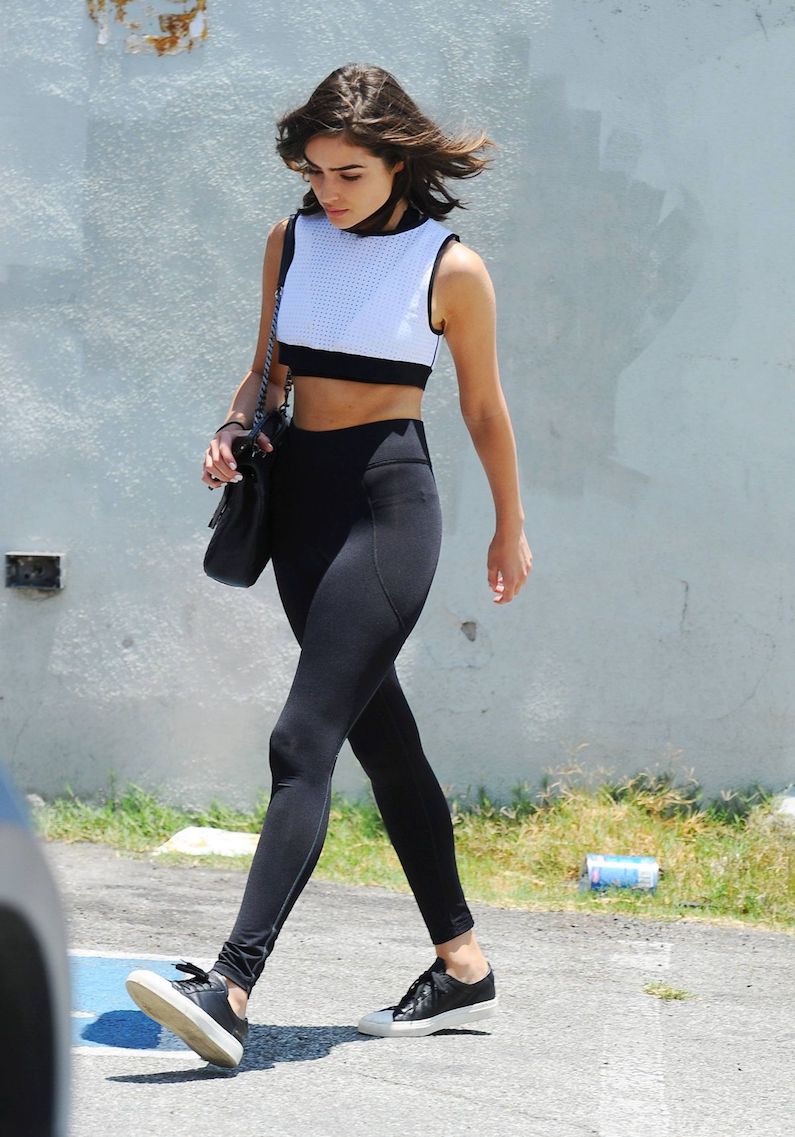 Another athleisure outfit, this time a little bit more understated and casual. She is wearing a black and white top with perforated texture and a pair of black leggings – the norm when it comes to workout-wear! What's interesting is that even she is sporting a very athletic outfit, her shoes are more on the casual side as she isn't wearing any trainers. I guess she could have left them in her locker at the gym and she prefers these for walking from and to the gym or maybe she even trains in these which isn't advisable at all. Regardless, this is a "Rate the Outfit" article which means that I have to take points away for inconsistency!
Grade 5/10 the definition of average!
Olivia Culpo Outfit #5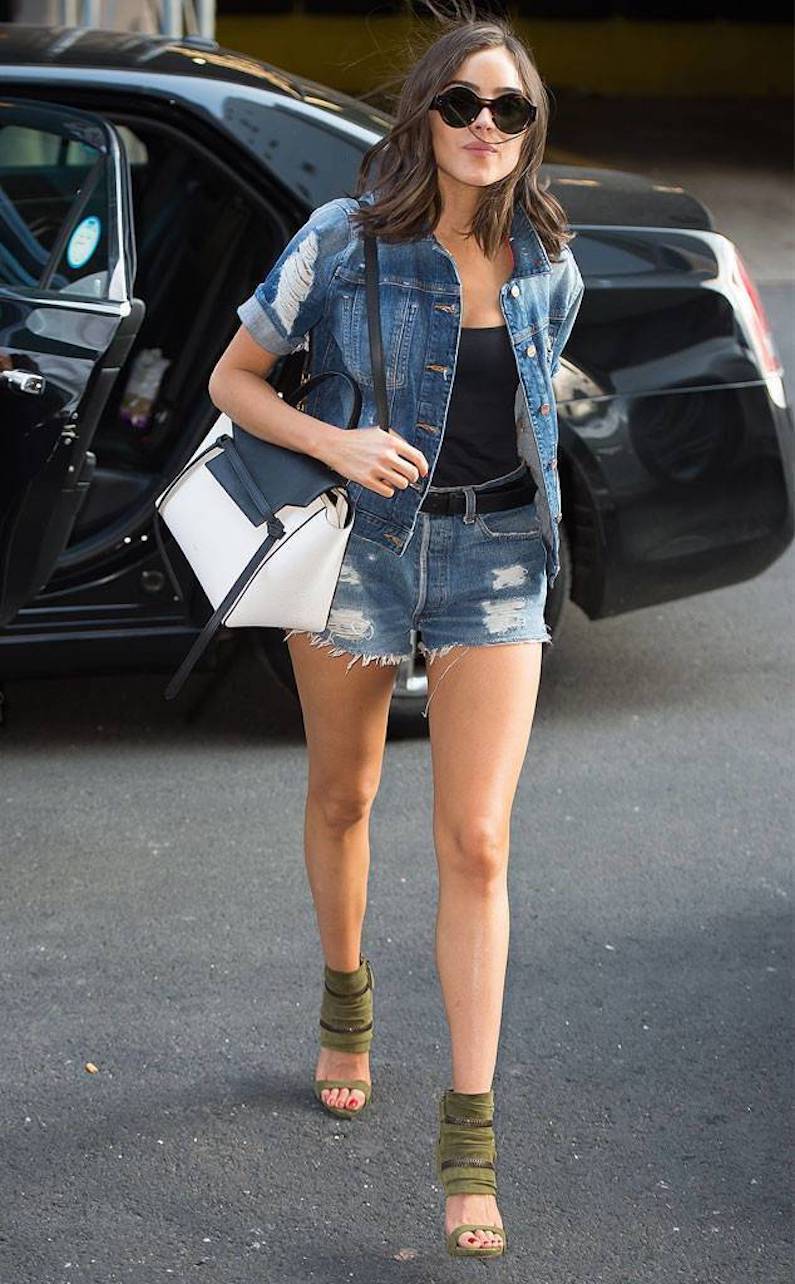 We are back with another street style outfit which looks great for summer! Judging by her denim jumpsuit earlier and this denim set of jacket and shorts here, she really likes the style! Ripped, short denim jeans are always hot and sexy and having a pair of toned and tanned legs is the ultimate combination! Olivia checks ticks both boxes!
The black simple top is exactly what this outfit needs so that everything stays in balance. Let's move on to the accessories! If you have read any other article of the series you would have stumbled upon me saying that I don't like round sunglasses and that they are really hard to pull off, but Olivia managed this! They look perfect on her! But, just a word to the wise – don't ever buy sunglasses without trying them on first. I think that sunglasses and pants are the two most difficult things to buy online. You must try them on first!
But let get back to Olivia. Her handbag is ok, nothing special, but this is a casual look so no points deducted there! Finally, we have the shoes….! Who told her that green (shoes) looks nice with blue jeans? No one! Even if someone told her that they were wrong! I like the style of the shoes but I don't like that they are suede and have that weird shade of green. A major styling foul.
Grade: 7/10 oh why did you have to wear these shoes? You ruined a great and sexy outfit!