Jessica Hart: Our Male Fashion Editor Rates Her Outfits!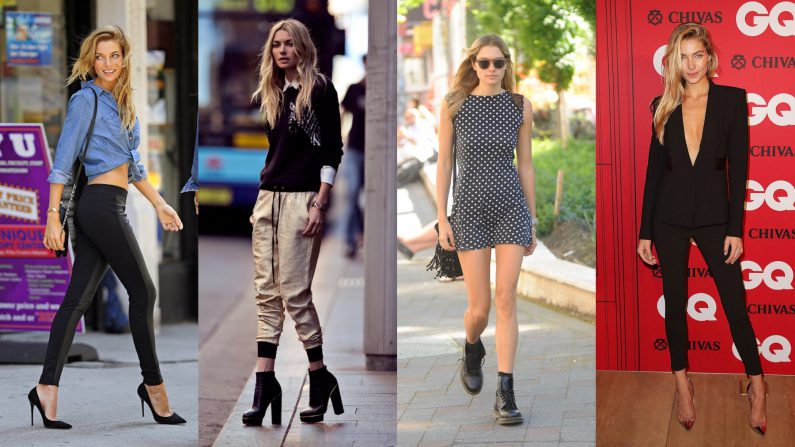 After grading my favorite, Sara Sampaio, I felt that Victoria's Angels are great candidates for the thing we have going on here so I decided to go with Jessica Hart next, who is a very close friend with Sara (as you can see in the first image).
Jessica Hart Outfit #1
Alright, strong start I must say! I think she has nailed her outfit spot on! It's something between a casual look but with touches of elegance and above all it's ultra sexy and chic!
Everything works, the denim jacket — especially the way she has tied it above her waist, the two-sided yoga pants and the black heels are perfect! I have nothing to negative to say. Well…if I must nitpick a little, then I would have to say that a "normal" pair of black leggings or actually, vinyl/leather leggings would be the best option for this outfit, what you think?
Grade: 8,5/10 – let's try different pants? (oh, Sara gets 10/10 because..reasons!)
Jessica Hart Outfit #2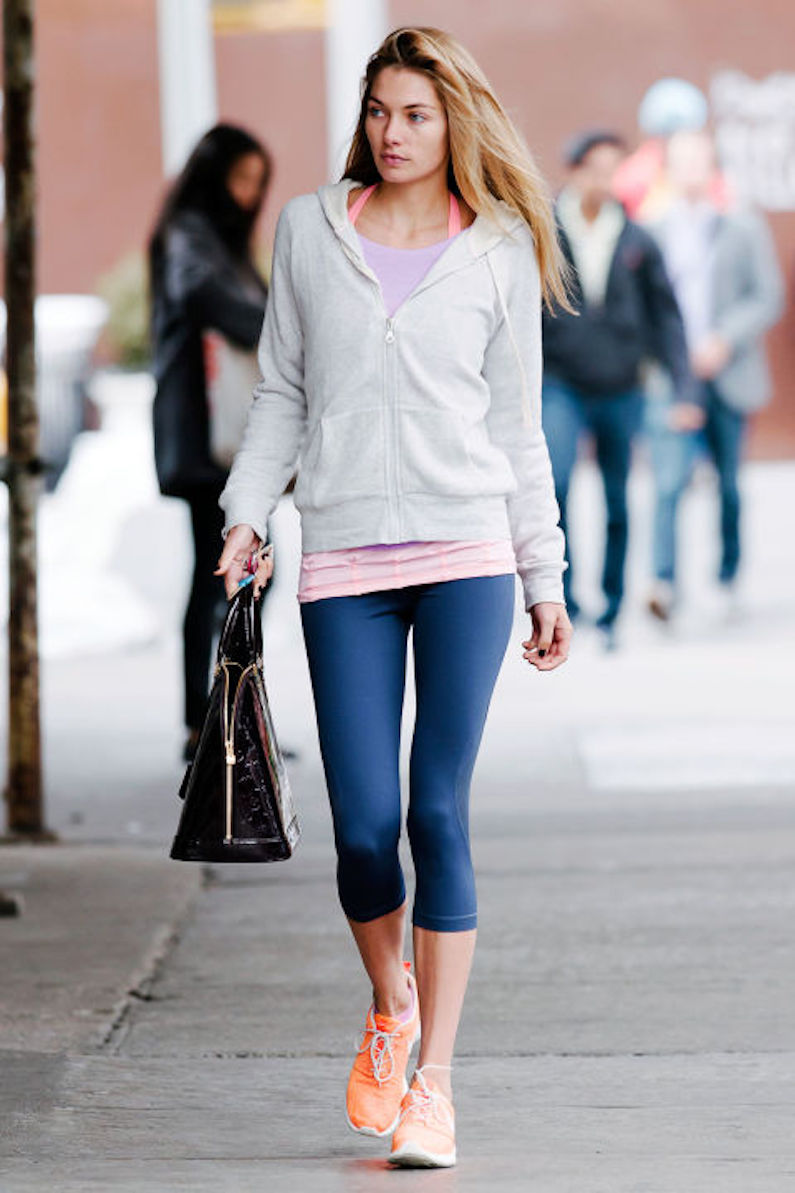 Less sparkle, more down to earth! A nice athleisure look with a few layers of clothes and several different colors. I can't say I'm the hugest fan of the rainbow look but it kinda works here — it adds a vibrant tone. I can't really make out exactly what she is wearing beneath the grey jacket, but from what I can understand, I don't really like that purplish blouse on top of the pink — whatever is underneath. It kinda feels that she grabbed the first few things she found and put them on.
Grade: 7/10 not impressed
Jessica Hart Outfit #3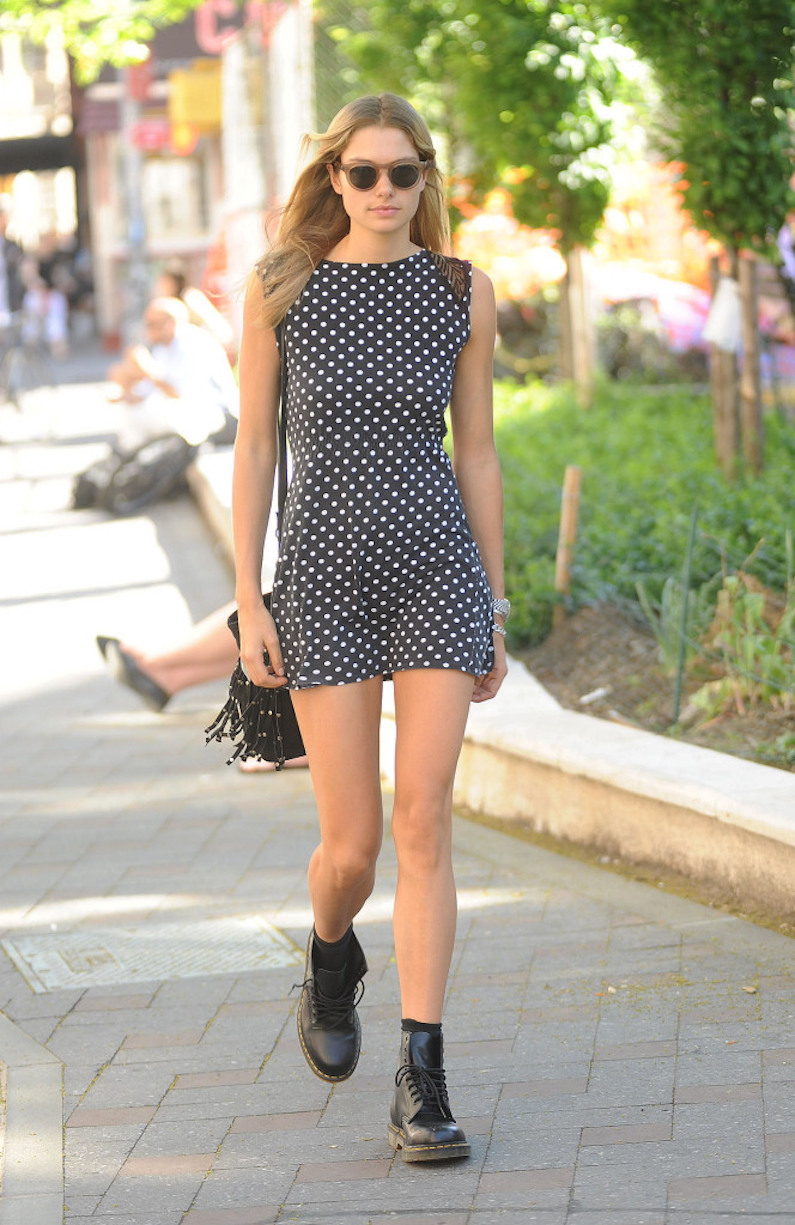 I really like the hair, the glasses (and you know how difficult it is for me to like a certain pair of sunglasses), and the summer dress! But what the hell are those shoes? Is she going to war? Is she joining the army? Will she star alongside Demi Moore in "G.I.Jane 2"?
I can't imagine those being comfortable for a walk outside or for anything actually. They look huge, awkward and manly. She looks like a lumberjack. Big no! It's a shame because otherwise her outfit is really nice and she looks great! But the shoes ruin it!
Grade: 6/10 minus 4 for the shoes, it's that bad!
Jessica Hart Outfit #4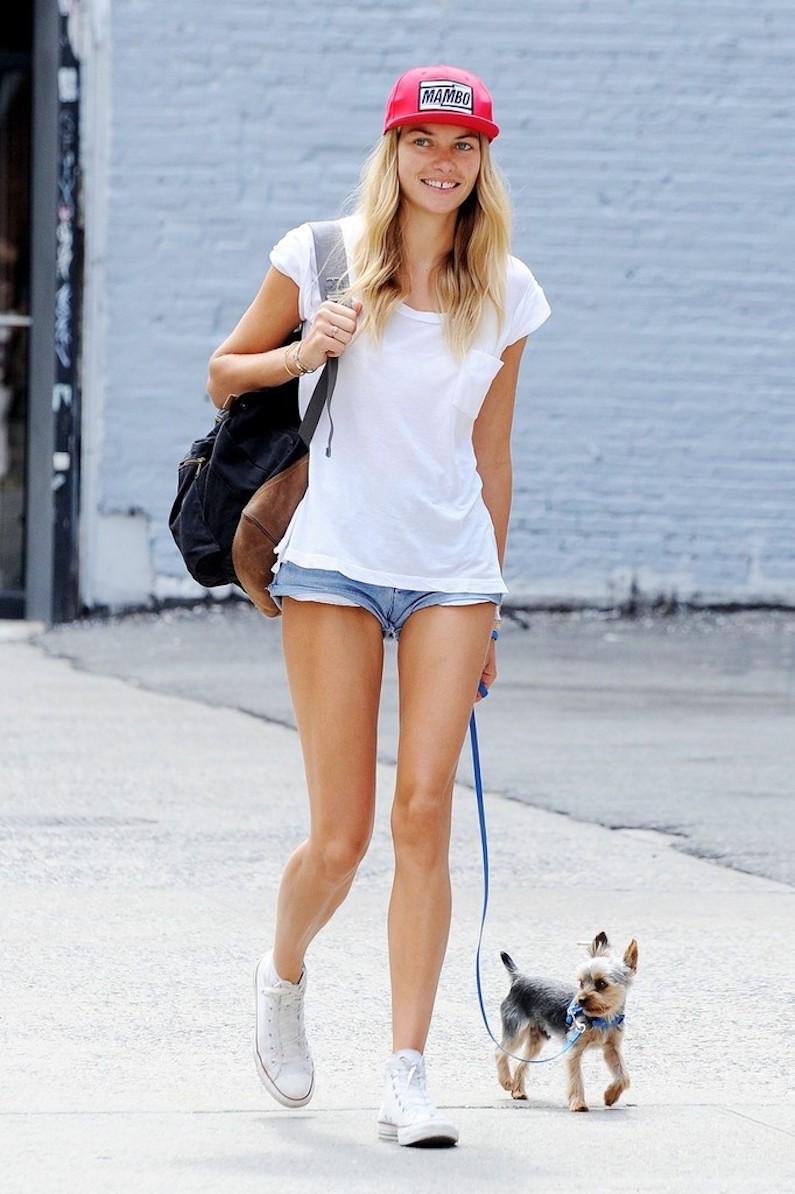 That's a California girl look. Ultra short denim shorts, a plain white tee and a baseball hat! I don't have anything bad to say, the white Converse are my favorite color All Stars, the denim shorts are extremely short which adds to the sexiness and the white t-shirt is the right choice for this look. I am not a fan of hats and I don't really like it here either.
Grade: 8/10 We need to feed her something though, don't we?
Jessica Hart outfit #5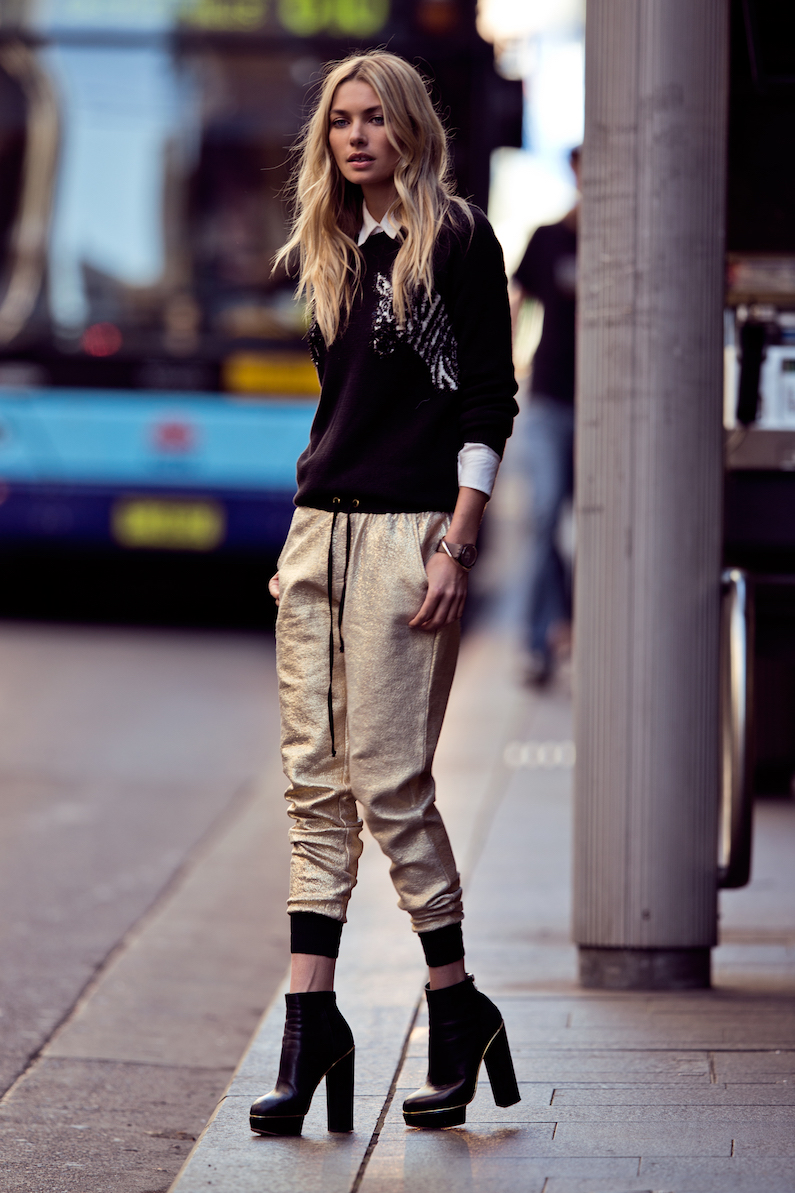 Ok, ok this took me some more thinking that usual. I couldn't really decide whether I like the outfit or not and which parts of it I like and which I don't. Eventually I decided that I like the bottom half (pants and shoes) and I don't really like the top half (shirt and blouse).
Even though these shoes would immediately turn me away, somehow they work here and that metallic shiny strip makes them more chic and elegant. I really love the pants and I honestly think that with a more upscale top the outfit would look absolutely perfect. The top half is more of an androgynous – tomboy look which I really don't like.
Grade: 6,5/10
Jessica Hart Outfit #6
Ah, this outfit was selected by Ella, or Emily, I am not sure I have to check with them! But I know for sure that they have figured me out and know what I like and what I don't and this outfit is freaking perfect! She is dazzling, extremely sexy and elegant. I have a thing for blazers and tight pants and she is rocking this style!
I also love the shoes, they have a combination of transparency and gold finishes that makes them the perfect pair of shoes to top up this outfit. It's exceptional and very hot! Only thing that would make it even hotter is to have Sara Sampaio right next to her dressed in the same thing (I'm joking, relax — or am I?).
Grade: 10/10 best way to close your appearance, Jessica!