Hailey Baldwin: Our Male Fashion Editor Rates Her Outfits!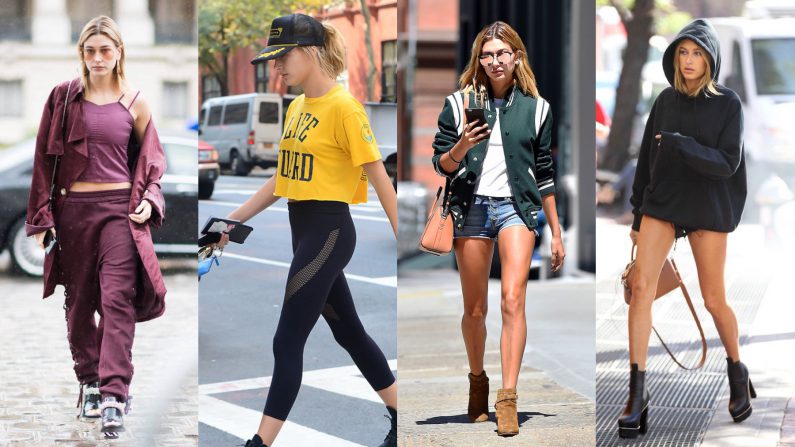 I have to make a confession. Initially, I didn't know who Hailey Baldwin is, but I picked up on her last name, but after a quick research, I discovered that she is a big deal n the fashion/celebrity world and she has a glamorous career as a successful model.
Hailey Baldwin Outfit #1
We start with a classic athleisure outfit. The color theme appears to be black and yellow which makes for a nice contrast. She is wearing a crop top which seems to be really comfortable and stylish and you could easily wear it both in the gym and for a coffee. Then, we have a simple, yet not understated pair of black leggings with a nice cut at the height of the thigh. Again, this makes for an excellent option both for an intense workout or for a walk in the park!
I can't really see the shoes, but they don't seem to be trainers, rather a pair of black ankle boots. They match perfectly with the rest of the outfit and make the look a click more upscale!
Grade: 9/10 Oh, and I like the hat!
Hailey Baldwin Outfit #2
She had a good start, but let's see if she keeps her grades up! This time, she moves away from the athleisure look and embraces a more sexy appearance staying true to the casual style. Starting from the top we have green college jacket and a plain white tee. I must say, even though I dislike the green color and I think that it's one of the most difficult colors to match, she pulls it off here! Great job! The plain white shirt helps a lot and doesn't 'take away' from the main centerpiece – the jacket!
She is also wearing a very short pair of denim shorts — very sexy and always one of the best options for sunny and warm summer days! You simply can't go wrong with them. Finally, she has completed her outfit with a pair of suede brown ankle boots that adds a more elegant touch. Not much to say about the accessories, sunglasses and handbag, they are fine but nothing to boast about.
Grade: 8/10
Hailey Baldwin Outfit #3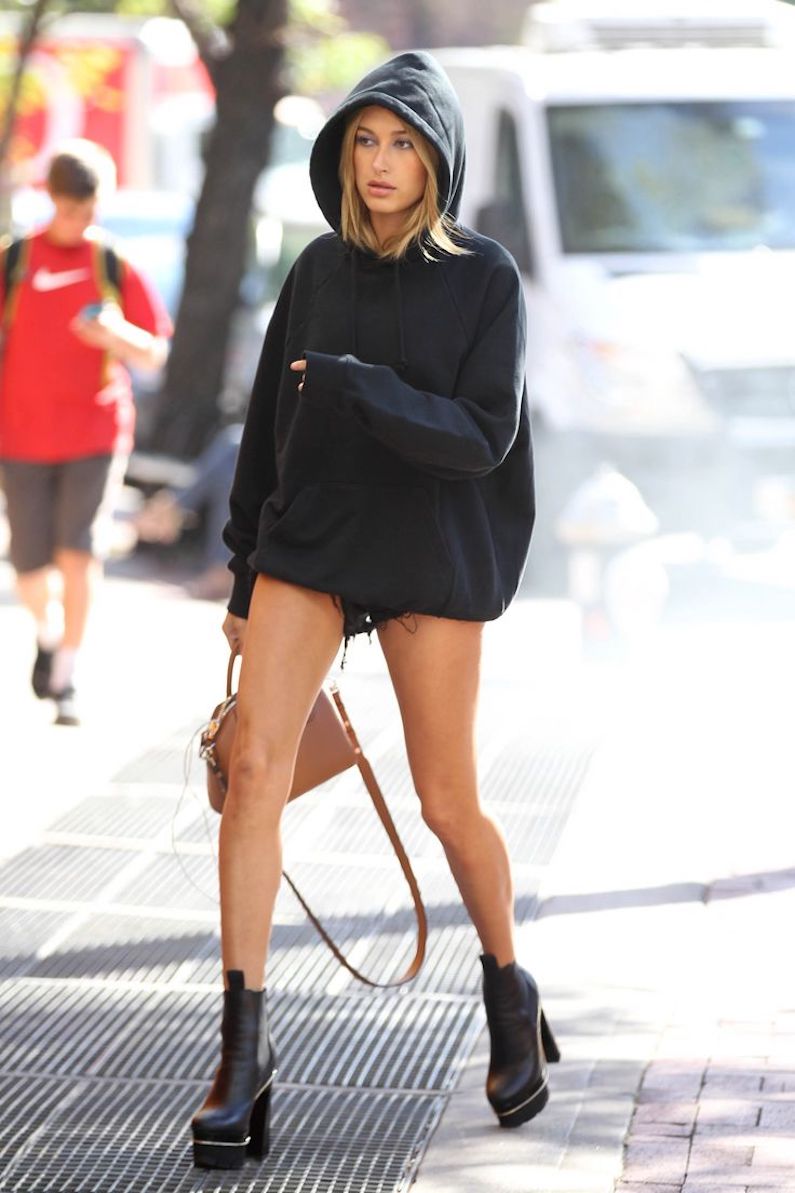 She must really like extremely short shorts, but I can't blame her – she has some killer legs and she should be showing them off! Let's see now though, she is wearing an oversized hoodie which is really simple, no design, just a solid dark gray color and a pair of huuuge heels! Oh man, after several posts grading the outfits of all the fashion icons, I have come down to the conclusion that it's pretty much always the shoes that make or break the outfit and for some weird reason women usually mess them up, when they are supposed to be their signature piece of clothing that they will always nail.
Miss Baldwin, you messed this up, what the hell are these? They are huge, awkward and really ugly. Please throw them away and buy yourself something else! I know I have to say something about her bottom half but I can't tell what she's wearing. I guess it's a pair of shorts but can't see them!
Grade: 2,5/10 Them shoes….nothing can save you Hailey!
Hailey Baldwin Outfit #4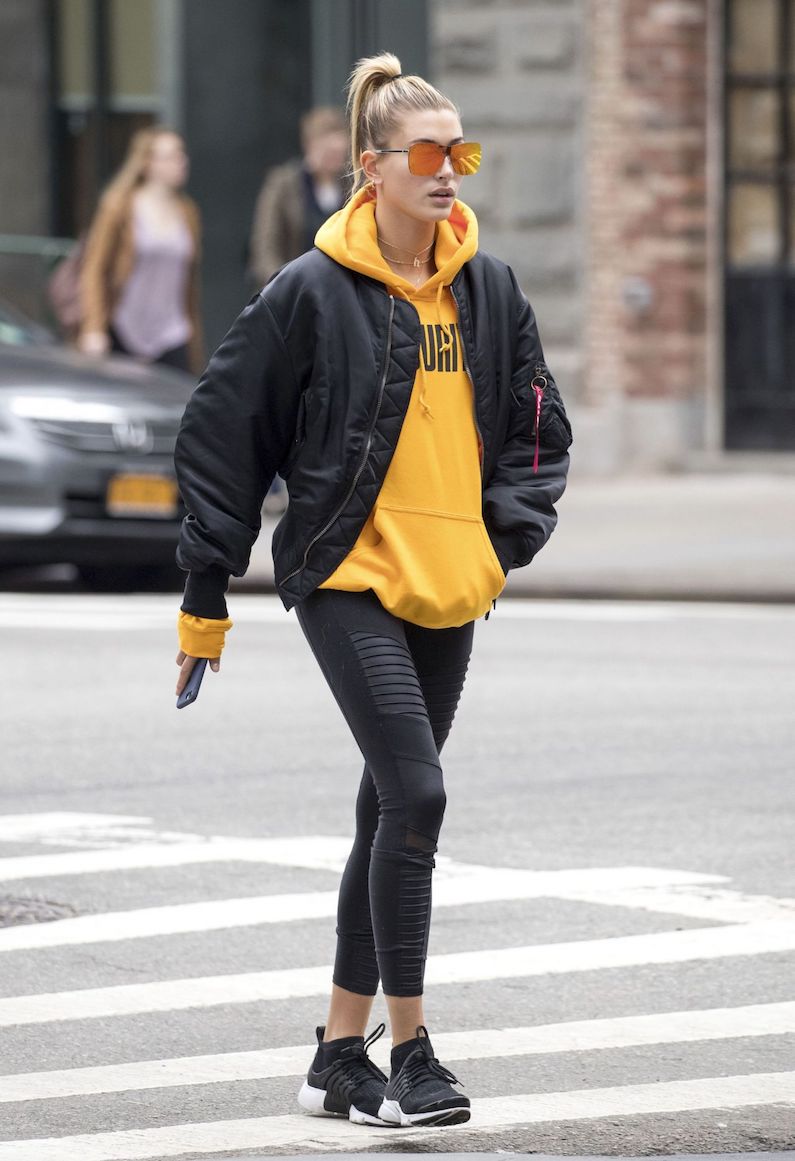 There she goes again with the black and yellow. I guess it's her favorite color combination. Let's see how she does this time. Black bomber jacket, kinda reminds me the 90s – 00s when everyone used to wear these. I really thought they are out of style by now, I never see them anymore. Hailey, haven't you been keeping up with the trends?
She is sporting a really nice, oversized yellow hoodie with a black stamp and a sexy pair of black leggings which looks a little shiny, I guess it has some vinyl in them, great choice! For shoes, she is wearing a pair of black and white no brand trainers, not bad but nothing special. I guess she is actually coming or going to the gym!
Grade: 6,5/10 Functional but nothing special.
Hailey Baldwin Outfit #5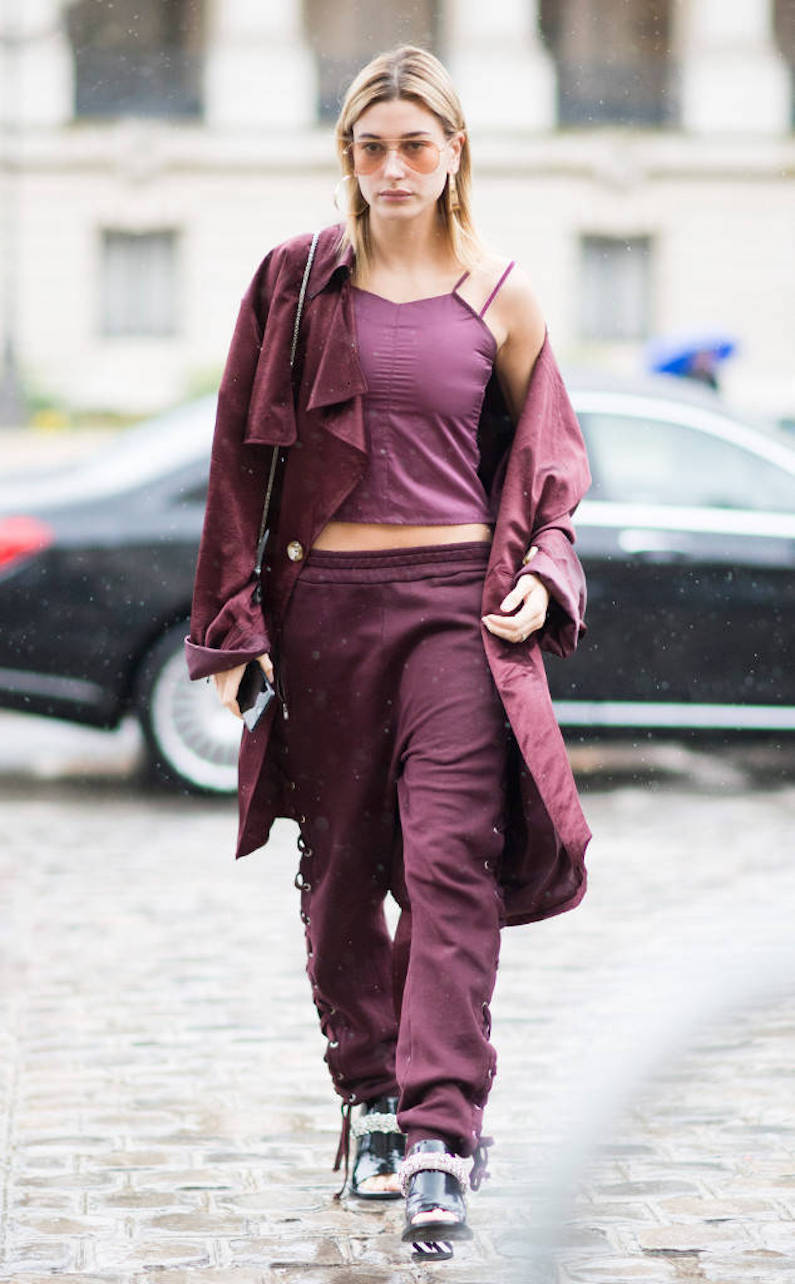 Aah, she is drenched in Burgundy. Alright, let's see — her outfit looks like something between Athleisure and a night out (check her shoes) which is really hard to pull off.
Starting from the top, she is wearing a really long coat with golden buttons. I don't see anything wrong with her choice apart from the fact that she is essentially half wearing it….any specific reason? Is this a fashion statement? Pffff, nonsense I tell you!!!
She has matched her coat with a burgundy simple top and a pair of sweatpants with a unique style. On the sides, they feature some weird laces that go all the way from the top to the bottom. They look ridiculous! I am the first person to admit that laces/straps/etc. look amazingly sexy but not on sweatpants! Here, they simply look ridiculous! Bah! And finally, to top everything off she is wearing some, very expensive I assume, designer shoes with white pearls around them. They don't make sense, she shouldn't be wearing these with this outfit! A nice, simple pair of trainers or even All Stars would look great!
Grade: 2/10 Get some fashion lessons, Hailey!