Bella Hadid: Our Male Editor Rates Her Outfits – Surprise Inside!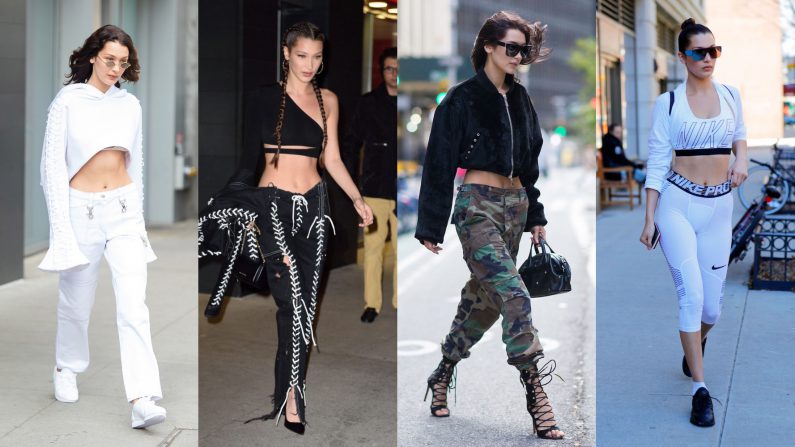 Oh Bella, how Bella are you?
For one more week, we are back with a completely new article in our "We Rate Her Outfits" series.
Bella Hadid is one of our favorites, but that doesn't mean that she doesn't wear some weird confusing things from time to time.
Let's dive in!
Bella Hadid Outfit #1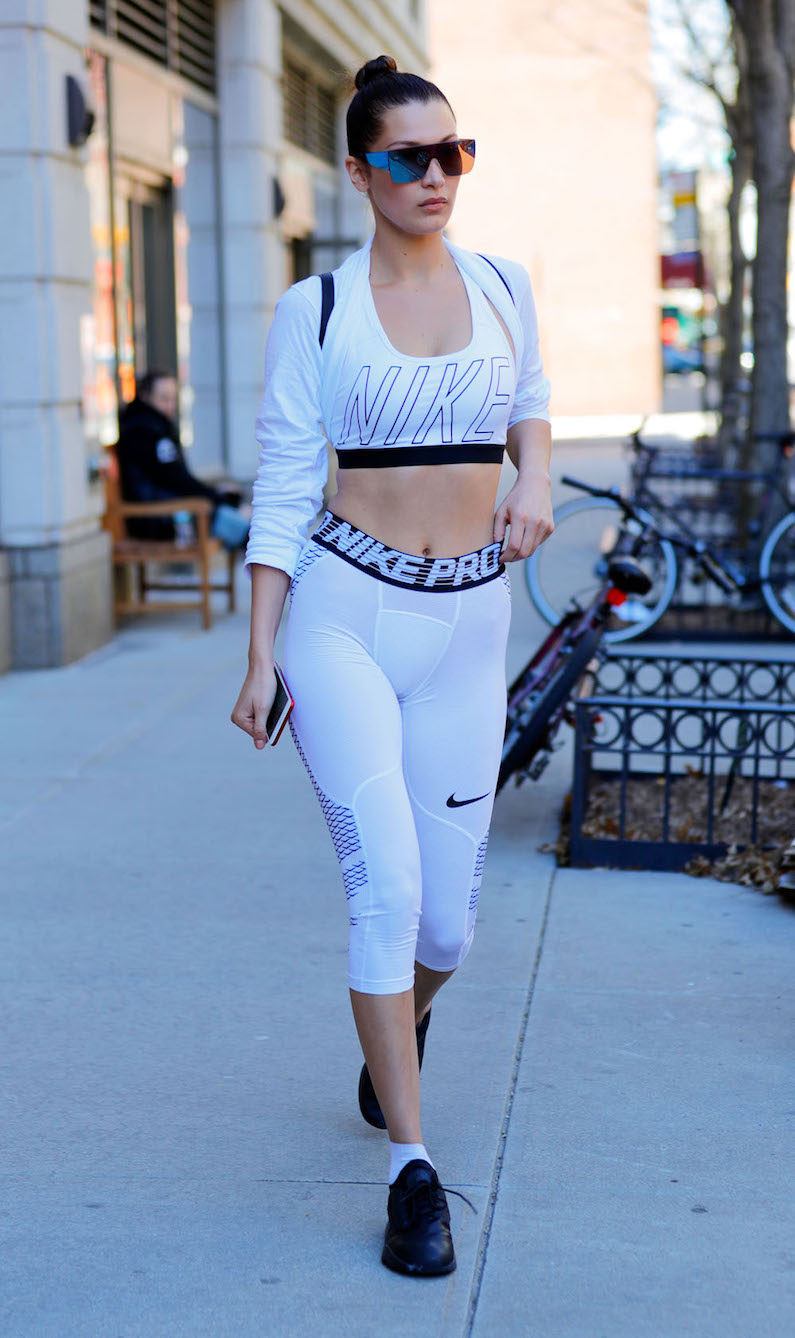 I'm not sure if she is going to or coming from the gym, but her outfit is 100% athletic — but is it athleisure? Hmm, while we love the athleisure style sometimes, certain outfits are best kept in the gym! I feel like her appearance is too 'athleticy'. I don't like the black shoes with the white socks and those leggings, not my favorite. Also what's up with that jacket thing? Is it like a miniature jacket or something? Don't understand, it confuses me and when something confuses me there's a bad grade coming!
Grade: 4,5/10 Off to a bad start! (Also dislike the glasses!)
Bella Hadid Outfit #2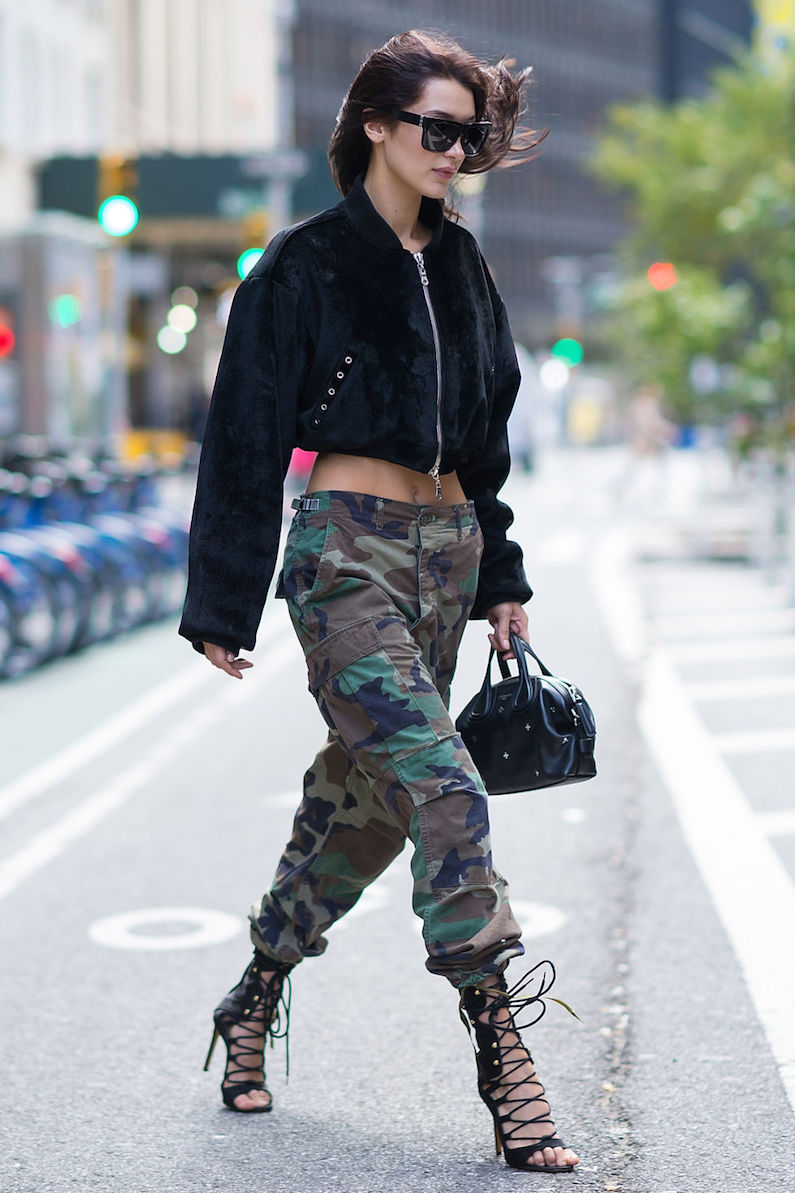 Alright, alright, this is promising, now we're getting somewhere, I like, I like! Let's start from top to bottom. I love the glasses (in contrast to the last outfit), love the jacket. It's really sexy the way it shows her midsection — but I guess that's because she is fit, right? Then we have the camo pants. I've said it before, but I'll say it once more, camo clothes are really sexy on women! 10 out of 10 up to here Bella. But those damn shoes, I don't feel they work with the rest of what she's wearing. If she had different shoes that could be a 10/10 outfit! your loss Bella!
Grade 9/10 minus one for the shoes and I'm being generous!
Bella Hadid Outfit #3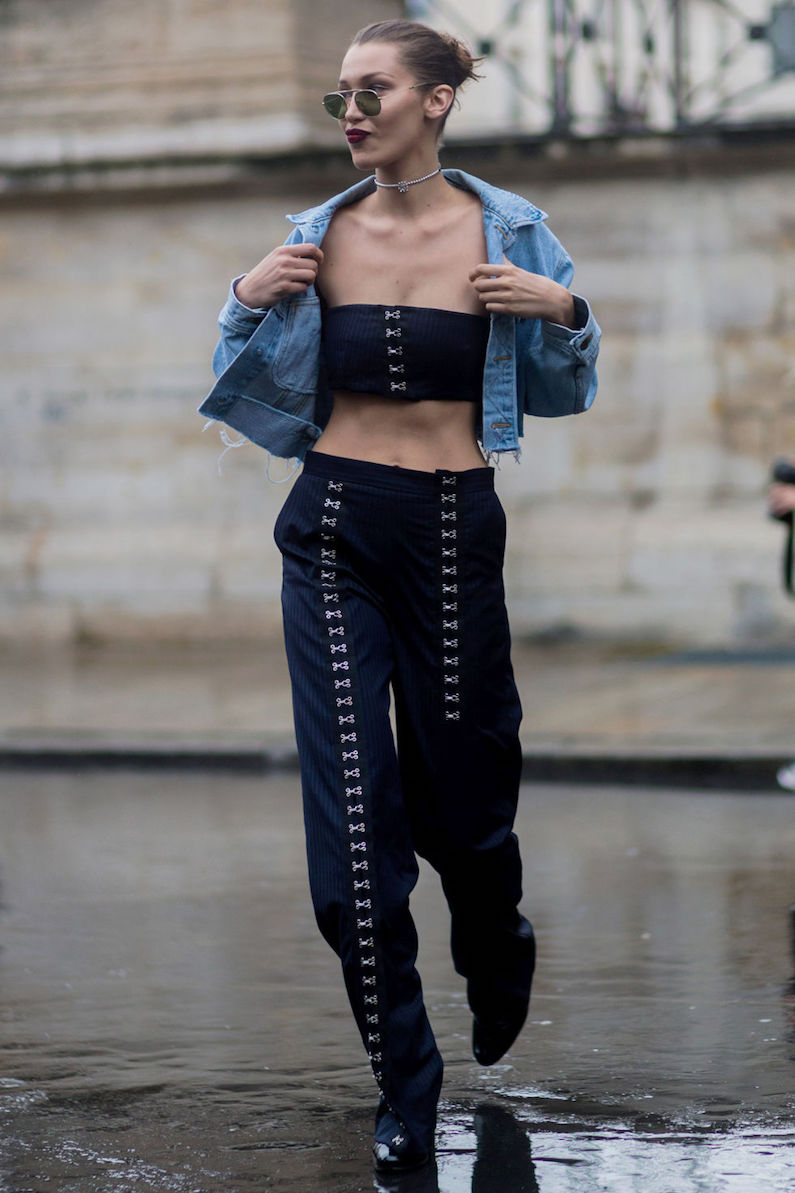 Alright, more promising material. Like the glasses and the choker. The denim jacket works (actually I think that denim jackets always work for some reason). I somewhat like that top — not the hugest fan but it's ok, same for the pants. I guess it's a set so I'll give her +1 for consistency!  I can't really see the shoes so can't comment.
Grade: 7/10 Not bad!
Bella Hadid Outfit #4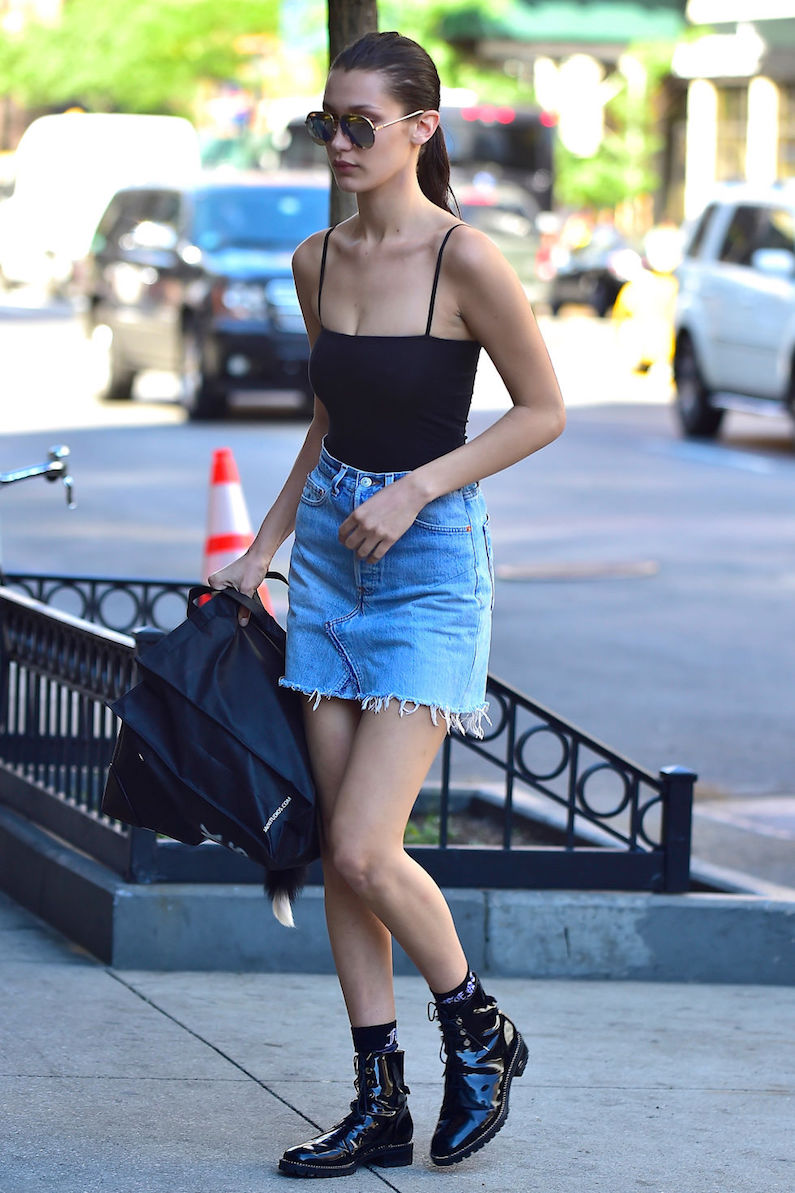 Oh….why oh why? What's that outfit? She looks like a combination of a hipster, an 80's chick and a confused teenager trying to find her style. Let's see, not everything's so bad. The top is fine, but that's your most average, generic top, but anyway — no issues with that. I genuinely dislike the skirt. I really don't like denim skirts, they look too rigid and unfeminine. The shoes are a pair of huge and clumsy boots, nothing sexy or appealing to them. A pretty basic outfit, nothing special. If she would replace those shoes, we would be in business.
Grade: 4/10
Bella Hadid Outfit #5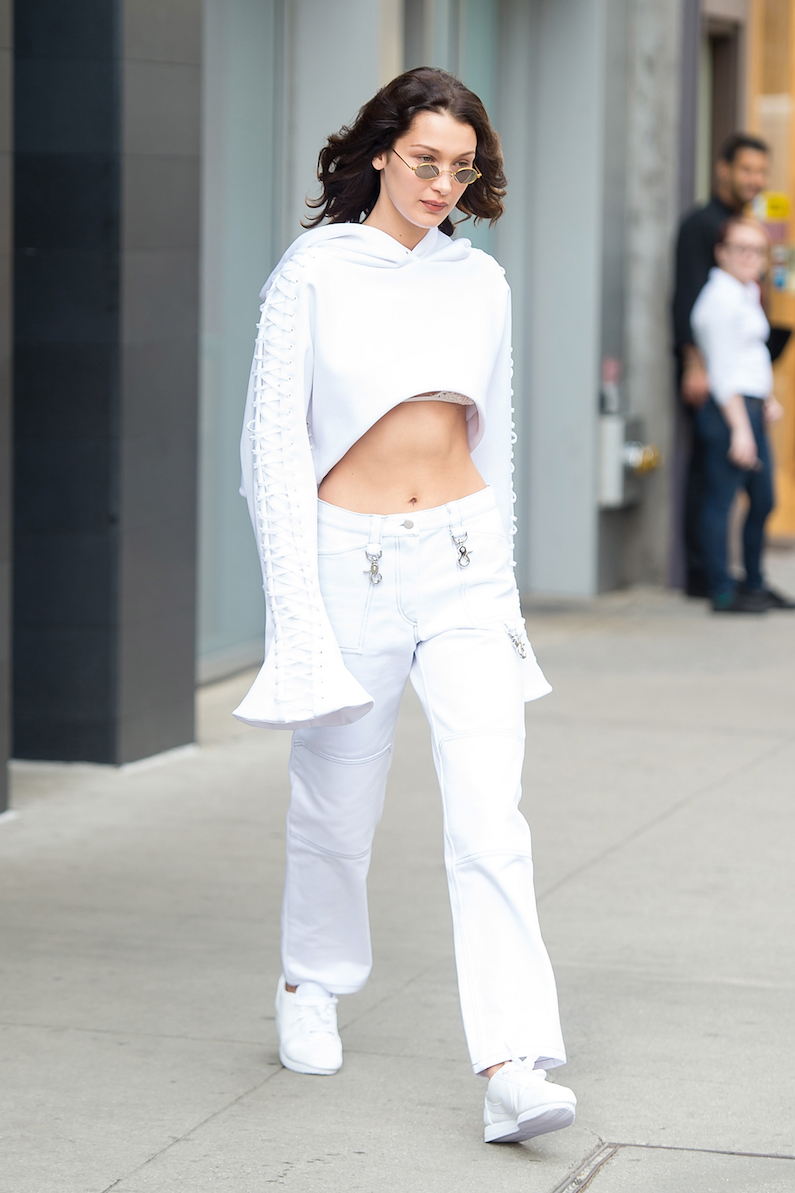 Oh God, merciful God, here's John Lennon in a white Jesus outfit. Oh wait, that's Bella. Let's get started and may God be with us. These glasses don't work, they don't work on anyone, please never wear them. Then we have that top, it looks like a straightjacket, I mean come on look at this:
You can't tell me it doesn't look similar. Also, what's up with the sleeve length? What if she wants to grab something, drink a glass of water? How's that possible? This doesn't even make sence. The pants look better, but I can still see the little metallic hooks that are a part of the straightjacket!
Grade: 3/10 to the madhouse I say!
Bella Hadid Outfit #6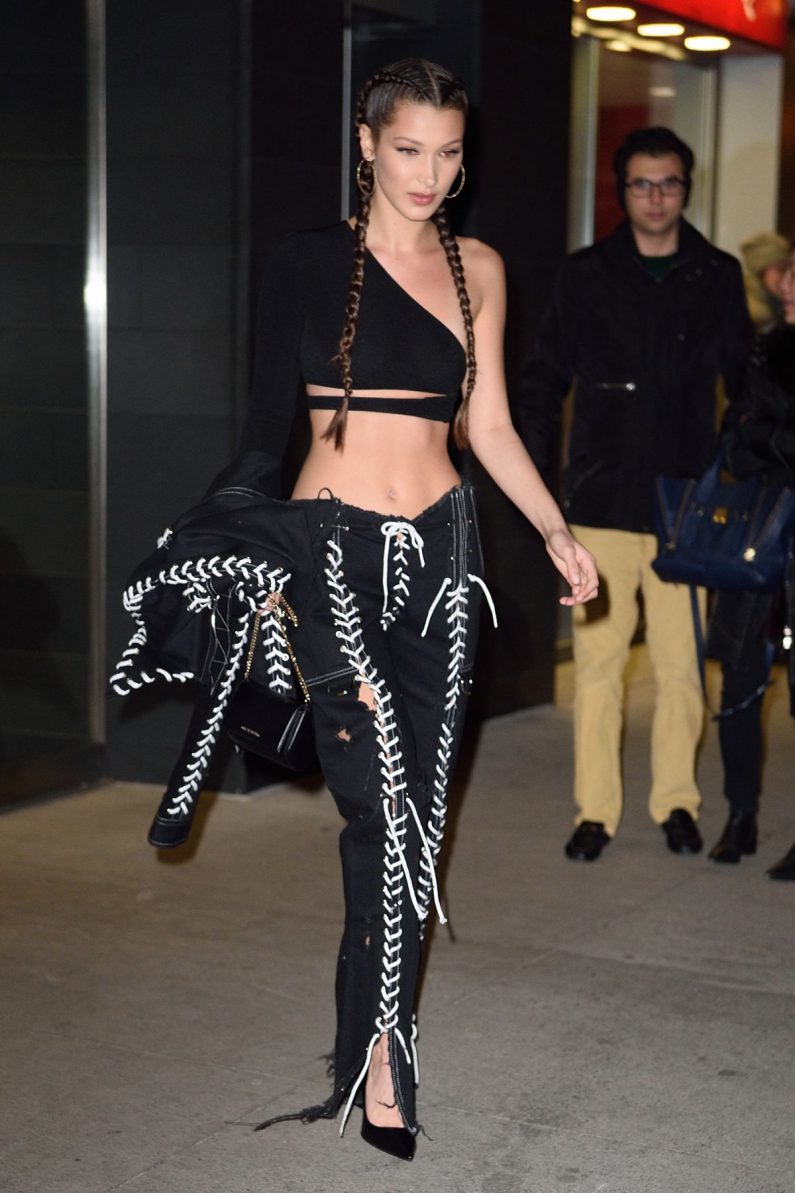 Ah, I like it! You know, sometimes my collueague editors, add another outfit for me to rate and they have some great inspiration, I guess they know what I like and do that on purpose, I am on to you you know!
But, I really really like this outfit. It's ultra sexy, love the black and white contrast, love her hair, her complete appearance. The top is perfect, even her earrings match perfectly the rest of the outfit!
Bella, please stay like this and never change!
Grade 11/10 Yes, I can do that – she gets an eleven!